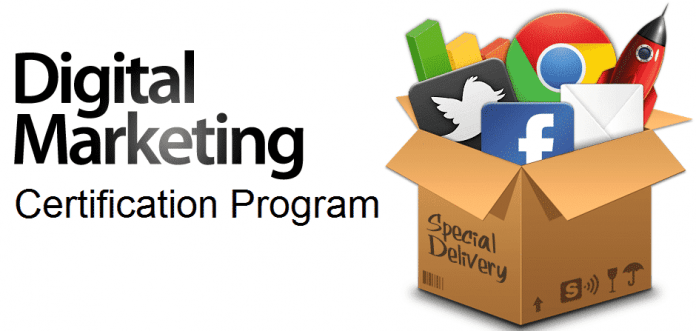 Online marketing or digital marketing is a very exciting field for the digital experts, who work very hard for their clients or audience to maintain the top position in search engine from their competitors.
Now a day's companies are looking for the candidates who keep themselves updated with the latest trends and techniques. If you are trying to get hired in digital marketing world, you have to mention your relevant skill on your resume.
To upgrade the skills in the field of digital marketing, there are some courses and certification programs that may really helpful for your better career.
Here are some top digital marketing certifications that will sharpen your skills:
1) Google Analytics IQ Certification
Google Analytics Certificate for the potential employers of working proficiency in Google Analytics. To pass the final assessment you have to complete the question that contains 70 questions.
To begin the exam, you need to set up an Academy for Ads account and run through Google Analytics for Beginners and Advanced Google Analytics courses to prepare for the exam. First of all, you need to complete the course before applying for the exam. Because without any clear idea there is no mean to take exam.
Link: Create a Google Analytics Academy profile to start exam.
Cost: Free
Exam Duration: 4-6 hours
2) Google Ads/AdWords Certification
A strong Google Ads campaign can make stronger your marketing plan. Google Ads certification allows everyone for the exam. You can get certified through Skillshop.
There is a course guide from Google Ads, to pass the exam you need to complete the course. So that you will get an idea about each and every program, campaign setup on every ad like search ad, display ad, shopping ad and more which are include in the exam program.
To pass every exam you need to score minimum of 80% of the total number.
Link: Create a Google Ads account to start
Cost: Free
Exam Duration: 4-6 hours
3) HubSpot Certification
You can grow your career by completing the free courses and certifications provided by the HubSpot Academy. After completing the certification program, you cad add your badge to your LinkedIn Profile.
For Digital Marketing there are free courses available like Content Marketing, Inbound Marketing, Social Media, Email Marketing etc.
Link: HubSpot Academy
Cost: Free
Related Article: Effective Business Research Methods that will Maximize your ROI
4) Google Digital Garage – Fundamentals of Digital Marketing
Google's Digital Garage offers free tutorials on every digital marketing concept you can think of.
By improving your digital knowledge, this certification can help you to find a job, get promoted, or you can start your whole new career.
Becoming Google Digital Garage certified shows that you have a strong digital skill. After completing the certification, you can easily upload the certificate to your LinkedIn Profile.
The entire course consists of 26 modules that are all created by the Google Trainers.
Link: Google Digital Garage
Cost: Free
Exam Duration: Varied
5) Bing Ads Certification
You can improve your knowledge and prepare for the Bing Ads certification exam. To pass the exam you have to score minimum of 80%.
Being is a search engine just as Google. Bing's online course program teaches you how to maximize your ROI when advertising on the platform.
To complete the certification program, first step you need to take the free courses provided by the Microsoft Bing. After completing the course, you are now ready to give exam.
Link: Bing Ads Accredited
Cost: Free
Exam Duration: Varied
6) SEMrush Digital Marketing Certificate
With SEMrush Academy's free exam certification on Digital Marketing, you can test your knowledge on this tool.
SEMrush Academy provides free courses and exams on different Specializations like SEO, Social Media, PPC, Content Marketing and also about the SEMrush Toolkit.
After passing the exam you will be rewarded with a certificate by SEMrush, which gives a value addition to your CV as well as your LinkedIn profile.
Link: SEMrush Digital Marketing Certificate
Cost: Free
Exam Duration: Varied
7) Twitter Flight School Certification
Twitter Flight School is all about the advertising on Twitter. It is an online learning platform. Twitter Flight School offers different courses and certification on how to start with Ads Manager, for video campaigns on Twitter etc. to expertise your knowledge level.
Anyone can give apply for this exam like whether it's an agency, are a Twitter partner or any individual. The best thing about the Twitter Flight School exam is, this course is available in many different languages like:
English
Spanish
French
Portuguese
Arabic
Japanese
Chinese (Mandarin)
Korean
After completing the exam, you will be rewarded a Badge which is certified from Twitter Flight School. To start your course first you need to sign up for the Twitter Flight School account.
Link: Twitter Flight School
Cost: Free
Exam Duration: 2-4 hours depending on the course.
8) Google Digital Unlocked
Grow your business at your own pace, with flexible and personalized free online training courses provided by Google.
Google Digital Unlocked Certification is useful and It gives you an added advantage in Digital Marketing Industry. You can showcase Google Digital Unlocked Certificate to show your expertise while applying for interview or a job.
Link: Google Digital Unlocked
Cost: Free
9) YouTube Creator Award
YouTube Creator Academy is offering online courses. But the certified courses are only available to creators and partners with a partner manager, or with Content ID.
If you're eligible for the program, get in touch with your partner manager to enroll in a course. Your partner manager can help you understand which courses will be most helpful to take (Source: Creator Award).
Link: YouTube Creator Academy
10) Facebook BluePrint Certification (Paid)
Facebook Blueprint Certification help you to stand out in the field of Social Media as well as Digital Marketing. The certifications are approved by the Facebook. Facebook provides e-learning certification and the Blueprint Certification.
Now let me tell you how Blueprint Certification is different from E-Learning Course or Certification.
Facebook Blueprint provides free online courses for their users. Which offer basic and deep knowledge about Facebook and Instagram ads through their courses. If you complete the e-learning course you will be rewarded a course completion certificate from Facebook. Facebook does not charge any cost for the e-learning program.
On the second hand, Blueprint Certification gives you a certificate if you sit for the exam and you clear the Blueprint exam. Getting Facebook Blueprint certificate, helps you to stand out in the field of digital marketing.
Link: Facebook BluePrint Certification
Cost: $150 per exam (Differ based on your country)
Exam Duration: Exam times vary.