Facebook introduces its new features quite so often. If you have been using Facebook for quite some years, you would know how it has vastly developed its user interface so fast. And while the social media platform doesn't stop to impress us with its outstanding inclusions, Facebook Avatars is just one to name.
Related Blog: Amateur's Guide on How to Reopen a Snap and How to View Snaps
With this feature, you can make your own avatar on Facebook and use it on your DP or in your comments. So, today we will be talking about how to make a Facebook avatar and how you can use it. The process is quite simple and funny. So, what are we waiting for? Let's create a cool avatar on Facebook with this step by step guide.
How to Make Your Avatar on Facebook: Step by Step Guide
This guide has every detailed step to follow to make a Facebook Avatar. Therefore, you will see it starting from installing the app and creating the account. If you already are an existing Facebook user, you may skip some of the foremost steps and start from the actual part. However, if you are new, you will find these steps helpful.
Step 1: Download the App/Visit Facebook.com (For New Members)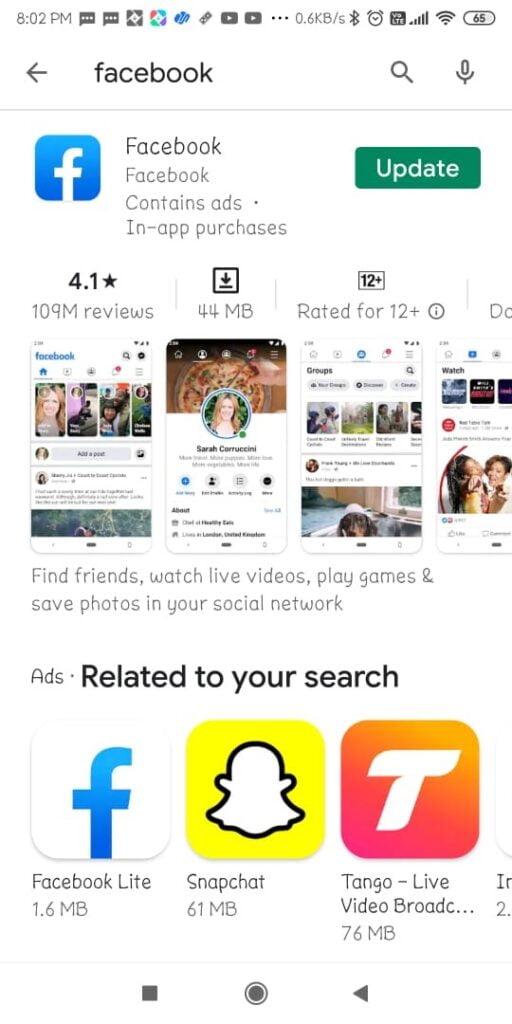 Here we start with our foremost step, which is downloading the Facebook app. Or, if you are willing to use it on the web, you can visit www.facebook.com to proceed further.
If you are an android user, you can visit the Google Play store and download the app from there. Or, you can simply click the link, which will redirect you to the app.
If you are an IOS user, you can open the App Store and download the app from there. Or, again, click on this link to get redirected to the app.
Once you have downloaded the app or visited the Facebook web page, it is time to create your account.
Step 2: Login/Create A New Account
You first have to log in to your account to create your Facebook Avatar. If you are new to the platform, you have to create your account for the same reason. You won't have to worry much about creating a new Facebook account. It is simpler than anything!
Just fill out all the required fields with valid details. Once done, you will receive a verification mail on your mobile number/email id. Once verified, you can use Facebook.
Now once you are in, go to the menu.
Step 3: Find The Menu
Once you are in your account, you have to go to the menu to proceed further. In the mobile version of Facebook, you will find the menu as three lines on the top right corner of the app. Or you can simply swipe left until you get to the option.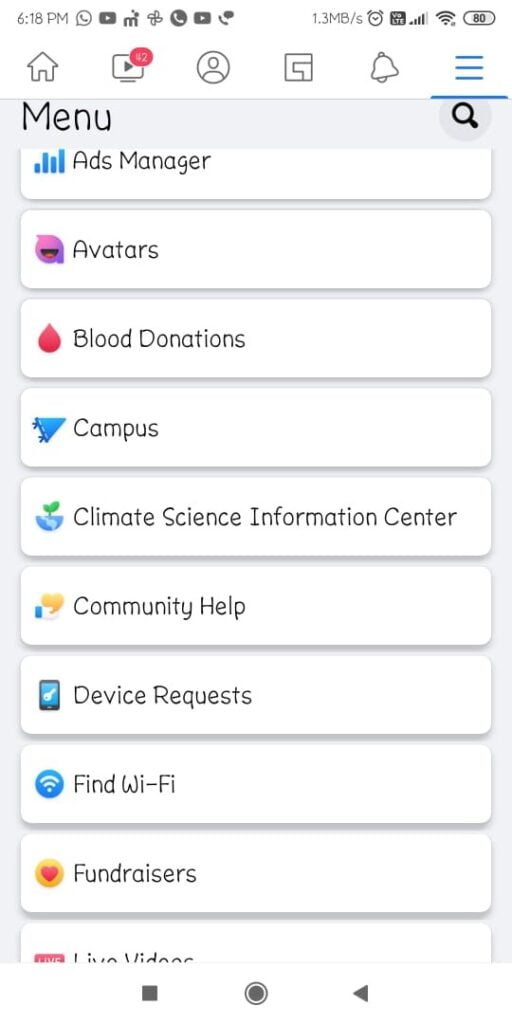 Step 4: Find "Avatar"
Once you have accessed the menu, keep scrolling down until you find "Avatar" on this list. It is where you can make your Facebook avatar. Now tap on the section and you will enter in the designing stage.
Step 5: Design Your Facebook Avatar
From here on, all you have to do is follow some simple on-screen instruction. Once you are in, you will have to choose your skin tone first. Then you will get to choose your hairstyle and colour and get directed to face shape, complexion and lines. Once it gets over, you have to select your eye shape, eye colour and makeup.
Then you have to select your eyebrows and several other eyebrows related detail, after which you'll get to choose whether you wear glasses or not. If you do, you can select a range of drinks from the available options. Next, you can choose your lip shape and colour and add some makeup as well.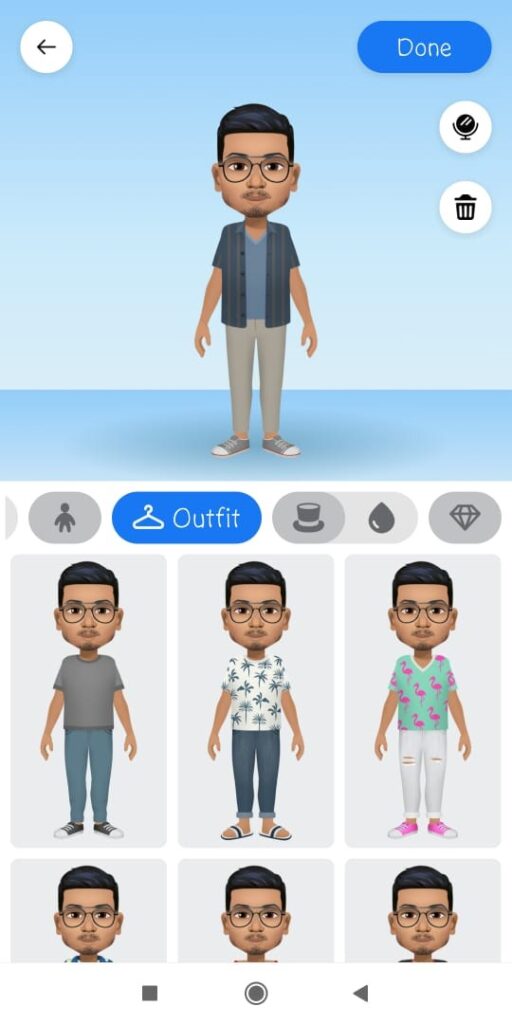 If you are a boy/man, you can select moustaches or beards as well. Once done with these physical detailings and makeup, you can now choose your body shape and select attire and other appliances like hat, earring, nose rings, etc.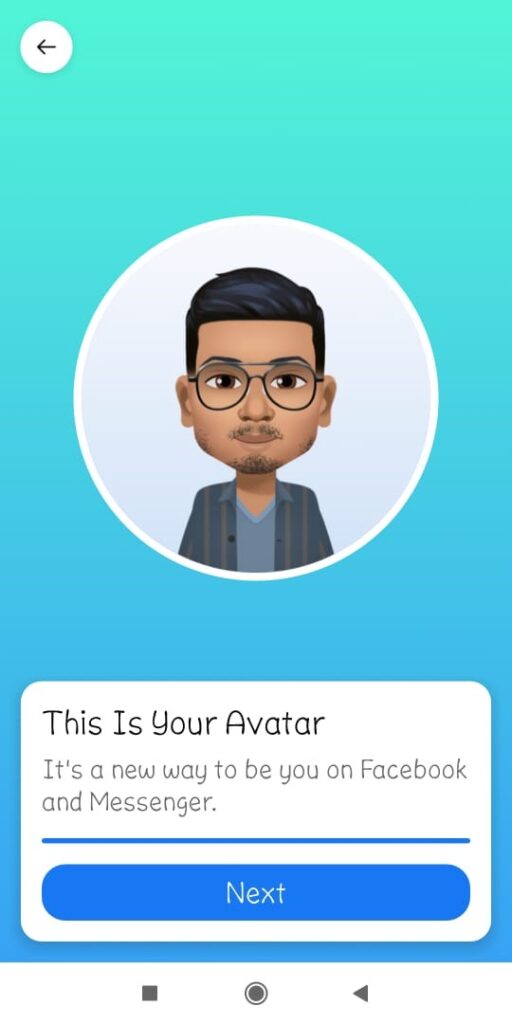 The main goal is to make an avatar that has the closest match with your appearance. Once you have designed your avatar, click on done and your avatar will be saved.
Now click on "next" and you will find how you can use your Facebook avatar in different places around Facebook. However, if you want to make further changes, you can do so by tapping on the back arrow "↤". You can also share your Avatar on Facebook and let others know about it.
How to Use Facebook Avatar
If you question, "How do I use my avatar on facebook?" I would advise keeping reading this. For one thing, a Facebook avatar is now only available in sticker format. So, here are some of the places where you can use your Facebook Avatar.
1. Facebook Comment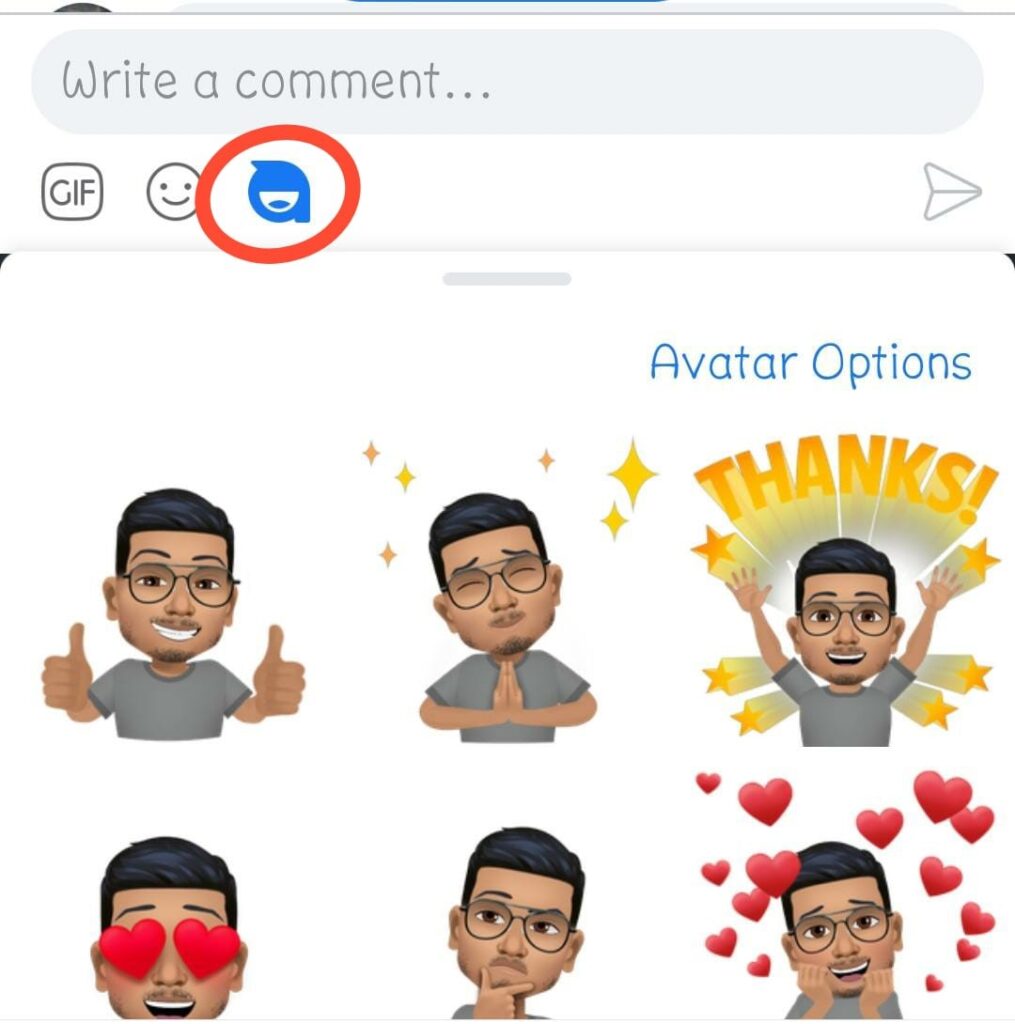 The most common place where you can use your Facebook avatar is in the comment section. Once you have created your Facebook avatar, you will get some sticker by default. Facebook keeps updating these stickers and also add more over time. These stickers are not only funny but also can make your expressions more authentic.
In the comment section, you will find the avatar button on the right side. Tap on the button, and you will get to see all the available avatar stickers. Now you can replace these stickers with the old and monotonous ones!
2. Messenger Chat
If you are done using the same stickers repeatedly on Facebook chat, you can spice it up a little bit with your Facebook avatar. You have to do pretty much the same as before. If you are using it from the web, click on the sticker button. You will see a strap of all the choices. Click on the one with your avatar.
Here you will find all the available sticker options that you can use in your chat. If you are using it from the app, go to the same place where you get the stickers from. There you will see the same (profile with your avatar). Tap on that and get whatever sticker you want to use.
Conclusion
Now that you know how to make a Facebook avatar, wise would be you not wasting any minute and jumping into having the fun. Facebook avatars can spice up your overall social media experience by bringing a little personal touch. It will make your expressions more vivid and funny. Before you leave, do let us know in the comment if you know any other way to use the avatar on Facebook.