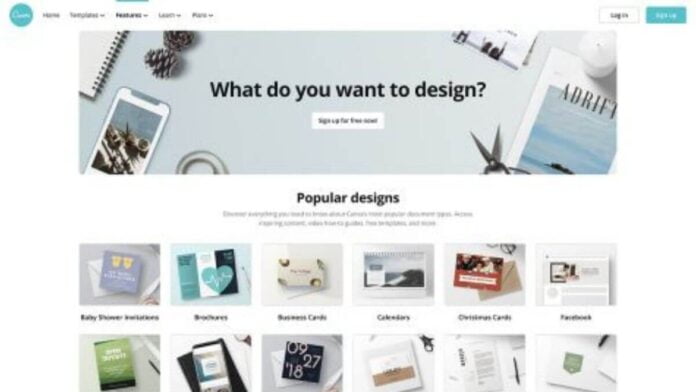 Canva is an online design program that is both sophisticated and reasonably priced. Canva is a favorite among small company owners because of its simplicity and dozens of template selections. If you're running a small company, here are some reasons to utilize Canva.
Reasons to Utilize Canva
It is free and easy to upgrade, you can get started right away.
Every dollar matters when you're a small firm with a limited marketing budget. It's completely free to utilize Canva's services indefinitely. Instant access to hundreds of templates, stock pictures, icons, and other components is included in the subscription price. Free accounts are sufficient for many small enterprises.
More layouts, images, components, and fonts are available to you when you upgrade to a Pro account. Other benefits include preserving logo colors, team members, and more storage space. The yearly plan for the pro edition is only $10 a month, which is a lot less expensive than many other design applications or hiring an agency.
Just an eye for what you like is all you need to get started.
Designing using Canva is like buying online. Canva features a wide variety of ready-to-use templates, from social media quotes to sales flyers to whole presentations. Find the project you're working on, then go through the available templates to find one you prefer.
With the help of Canva, you can create your unique designs as well. Create a new page from scratch and add your components, such as custom fonts and graphics, if you're familiar with design or like more control.
From anywhere and on your phone, you can access your project.
Because Canva is a web-based service, all your creations are saved online. That means you may start a job from home and finish it at your shop or workplace.
In terms of design, a laptop or computer is far more convenient. The Canva software, on the other hand, makes it easy to upload and utilize photographs taken with a smartphone. You may save and share pictures straight to your social network accounts when using the app.
Icon and fonts are already set up and ready to be used
You have a lot on your plate. Spend less time finding the appropriate image and other components for your project. Once you've signed up, you'll have access to a plethora of pictures and details.
Most importantly, Canva obtains appropriate permissions to use your images. That implies you can design something and be sure to utilize it for your company.
Connect with people and share information
A link to your project is a great way to spread the word about your work to other people.
A comment-only mode or full access to the design may be offered. Help from colleagues and close friends is readily available. You may also utilize share links to transmit drawings for inspection and approval if someone else is in charge of design for your company.
Ignore recommended social media size requirements
The optimal post and graphic ratios often change on social networking networks. If you're fed up with having to research each platform's requirements every time you make a picture, use Canva.If you don't use the software, you'll be done before you've had a chance to start.
Resize your images automatically
In addition to a Facebook cover photo, you'll need to design a Pinterest pin, a website banner, and a picture for your blog. Your design will be automatically resized if you have a pro account. This is a time-saver and a lifesaver. Even if you're using a free account, you may create and duplicate design components by hand.
Conclusion
Using Canva, you can quickly and effortlessly create stunning graphics and documents in minutes without downloading any cumbersome applications or going through any lengthy training sessions.