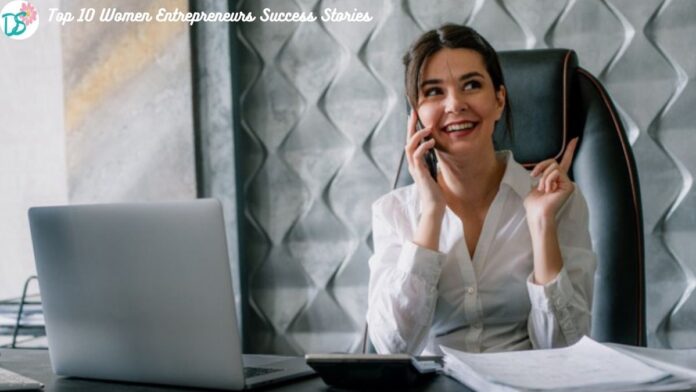 There are times that we need to go liking for true inspirations in the world. Between so much chaos, women empowerment is losing its original meaning. In this blog we have selected the Top 10 Women Entrepreneurs and their stories of success as businesswomen.
Top 10 Women Entrepreneurs and their stories of success
Indra Nooyi
Indra Nooyi makes it to our list of the most inspirational businesswomen. She has been the fifth Chief Executive Officer of the famous brand PepsiCo in 2006. She is an Indian-American who finished her MBA from IIM Calcutta and moved ahead to the Yale University of Management for MS.
Indra Nooyi as a top woman entrepreneur had been constantly receiving titles and awards for her strategies that have led PepsiCo far ahead. Later she worked with various other brands like Motorola, Johnson & Johnson, etc. As a global strategist, Indra Nooyi has been listed in the Forbes list of the World's Most Powerful Women a lot of times. 
In 2013, Nooyi was awarded the Padma Bhushan by the former President of India, Pranab Mukherjee. Working with various associations over the years as a part of a committee globally, she is currently a member of the board of directors at Amazon.
Her inspiring success story of entrepreneurship puts a powerful mark as a legendary woman.
Oprah Winfrey
Oprah Winfrey is an American show host born in 1954. She is an actress, philanthropist, producer, and author. She has one of the stories of successful women as she owned a net worth of 2 Billion US Dollars from her television talk show, The Oprah Winfrey Show. Seeing many hardships in life from childhood, she is known for her charitable nature.
In 1986 Oprah Winfrey found Harpo Productions, and in 2011 she partnered with Discovery Communications to launch Discovery Health Channel as OWN for Oprah Winfrey Network. She has a net worth of 2.5 Billion US Dollars. She definitely is a 'self-made woman'. Oprah Winfrey is one of the famous entrepreneur women internationally.
Huda Kattan
At the age of only 36, Huda Kattan established her own world-famous brand Huda Beauty. She earns a net worth of USD 610 Million. She is in our inspiring success stories of entrepreneurs for her unique tale of establishing her own cosmetic business.
Huda's false eyelashes were the key to the business she started. She had been looking for good quality fake lashes while practicing as a makeup artist till she began to create her own synthetic eyelashes product. Now, she has expanded her beauty career industry to various other products even for well-known celebrities.
Vandana Luthra
Vandana Luthra from India is the owner of the beauty and wellness brand VLCC. She was awarded the Padma Shri in 2013 by former Indian President Pranab Mukherjee for her excellent work as a businesswoman. Not only this, but she is also known as a philanthropist. She started an NGO with the famous retired national cricket player, Kapil Dev, for offering scholarships to kids stricken by poverty for free education. The NGO is named Khushii.
Lathura's story is surely one of the female entrepreneurs' success stories. Later expanded her service center to further modern services in terms of wellness, grooming, and beauty along with new brand products.
JK Rowling
Among the top 10 women entrepreneurs success stories, J.K. Rowling is always celebrated as the top woman entrepreneur. She has a truly inspiring success story as an entrepreneur. Her life had been full of struggle from family to other financial reasons. However, the continuously rejected Harry Potter series became an obsession for the reading world when it finally published.
J.K. Rowling as an author had been the wealthiest person in the world in the past. She owns multiple royalties meriting around $60 Million. She is a famous novelist and screenplay writer.
Cher Wang
HTC is a world-known tech company that develops smartphones. It was founded by Cher Wang from Taiwan with the chief motive to innovate new models from her brand. Apart from that, she is one of the most inspirational female entrepreneurs when it comes to technology and the computer world. She also founded VIA Technologies that was the largest international motherboard chip company.
Priya Paul
Priya Paul is the chairperson of Apeejay Surrendra Park Hotels which falls under the Apeejay Surrendra Group. She completed her studies by graduating from Wellesley College in the USA after which she joined her father's company as a manager in the marketing department in the Park Hotel branch, New Delhi. She took over her father's business along with her siblings after his death. 
Priya Paul had been working along to expand the Hotel Chain all over India by introducing the concept of Zone by The Park which is 4-star hotels. In 2012, she was awarded the Padma Shri by Pratibha Patil, former President of India.
Sophia Amoruso
Sophia Amoruso is one of the youngest top 10 women entrepreneurs Company to fall on this list. Her startup Nasty Gal and Girlboss Media are the two different companies she aspired to work on. She had to drop the idea of Nasty Gal as it went bankrupt as if became a fail. GirlBoss Media also went down a lot from more than 260 million USD to only 5 million USD. This brand is about counselling women on their beauty, career, wellness, lifestyle, etc.
Sophia Amoruso despite the fail, did not give up on working. That is why she is an inspirational businesswoman with inspiring entrepreneur success stories.
Falguni Nayar 
Falguni Nayar is an inspiration for all women. She finished her studies at IIM Ahmedabad. She proceeded in her career as an investor in the Kotak Mahindra Bank for 18 years. Her dream was more directed toward beauty and wellness. She left her job as an investor to pursue her dream as a woman entrepreneur. She started Nykaa, an online makeup brand along with wellness products. In 2014, the business partnered with Femina making huge profits from the Indian market. 
Sofia Vergara
EBY was founded by Sofia Vergara, a popular comedian, and actress. Her EBY business started in partnership with Renata Black. This business is a popular underwear brand in America. The joyful aspect of it is that around 10% of the total profit made is gifted to those women for aiding them in their careers and life. It is well recognized with a net worth of 121 Million Euros. 
Read more: Ways to Get into and Earn More from Digital Marketing