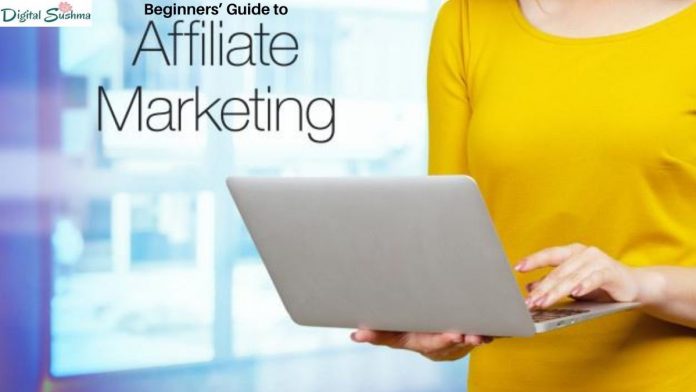 The internet world is revolving around optimization and affiliate marketing in all the platforms. Influencers and freelancers are searching for campaigns while the companies search for influencers that can promote sales. These influencers that promote the brands are called affiliates or affiliate marketers. In this beginners' guide to affiliate marketing, we will see the different components, what it is, and how it works. Ultimately you will find out how to begin generating revenue from it by yourself.
Related Article: Your 101 to Propeller Ads for Android and Blogger
What is Affiliate Marketing?
Affiliate marketing is a marketing technique by which an affiliate promotes a brand's products by the intention of earning a commission for the sales generated through them.
The affiliate earns through commissions while the brands gain profit through sales and customers coming via the link in the influencer's account. These links are tracked through the websites to find out the pathway of the customers.
Post link for promotion of a company for a product -> Customer clicks on the link -> Customer is sent to the company's website -> Customer buys the product -> Affiliate networks track the transaction -> Confirmation of valid sale is done -> You get paid when the transaction is credited to you.
This is the whole process of affiliate marketing. So, make yourself popular with income by following this step by step guide for affiliate marketing to get success.
BEGINNERS' GUIDE TO AFFILIATE MARKETING: Tips and Tricks
Before you become a superstar in this field, there is a list of a few things you must follow to start generating sales for the companies. The first step is to choose a platform for affiliate marketing. It could be social media like Facebook, Instagram, Twitter, YouTube, or even your own personal website or blog.
Understand the instructions here for starting your own affiliate marketing:
Find a niche
It is important to be specific. Relate to products that you use and start backing them up with reviews. Find a niche in what you do so that you can relate to the product. It builds trust between you and your followers. Take the example of lipsticks, or a specific coloured one if you love makeovers. Review books from a particular genre or anything else but be specific.
Find and grow the interested audience
Find out the topic in demand. If you have already chosen the subject for your blog, then start finding the audience interested in what you do. Draw traffic to your blog by optimization. Many affiliate marketing companies look for this as an eligibility criterion. It takes a long time, but once you have grown to an audience that views your products and makes purchases, you are all good to go.
Connect with brands
There are two ways to connect with different brands. You can either join an affiliate marketing program or contact the different brands by yourself directly.
For joining affiliate marketing programs, you can sign up with Amazon Influencer Program, Flipkart Affiliate, The eBay Partner Network, and various such affiliate marketing programs in India.
To reach out to different brands by yourself, offer them a collaboration directly, and explain how you can enhance their sales.
Review products
Even if you have not yet contacted any company or gained enough followers. Keep reviewing products. Continue making content and maintain the frequency so that you can gain enough channel subscribers. When people see what you do, they do not be-grudge following your blog, especially when it is from their area of interest.
Collect e-mails
Start collecting e-mails from your subscribers so that you can send a content update e-mail whenever you review a fresh product. This way you do not have to keep waiting for them to see the review on their own. 
BEGINNERS' GUIDE TO AFFILIATE MARKETING: Commission Models
These are a few tips to start working on your blog in this beginners' guide to affiliate marketing. Now, let us find out the different compensation modes that generate sales. These modes define how the companies would pay the influencers for the sales generated through their blogs and channels.
PPC (Pay Per Click)
Get paid for every click generated to the website. There is not direct merchant revenue in this model. However, the website pays for every click on their website's link. It does not matter if sales are achieved or not.
PPS (Pay Per Sales)
PPS is one of the simplest methods where the affiliate gets paid a certain percentage of the sale price when customers are tracked through the links and promotions made by them. 
PPL (Pay Per Lead)
The affiliate marketer gets for generating leads. Get the brands enough visitors. It usually takes place in contracts. A particular action has to be taken up by the visitors as prescribed by the company to the affiliate. It could be a subscription, registration, or calling followers to fill up a survey. The affiliate gets paid a commission for this.
CONCLUSION: Step by Step guide for Affiliate Marketing to Get Success
In this blog, we have covered:
What is affiliate marketing?
Beginners' guide to affiliate marketing: Tips and tricks
Beginners' guide to affiliate marketing: Commission models
Nobody can make you an expert in affiliate marketing. It is a step by step guide for affiliate marketing to get success in 2020. It covers basic ideas and components about which you must know before starting over. Knowledge is extremely important here. There are people who a few thousand followers who generate better sales than the one with a million. It takes time to discover your genre and gain followers. You can only begin when you have achieved them. Stay tuned for becoming an expert in affiliate marketing once you have mastered the fundamentals.