Spotify is a popular music streaming service that offers free and premium choices and online access to over thirty million songs. The best part is that Spotify allows you to play music for free. If you do not wish to leave your account dormant, you can permanently close your Spotify account. Below is a few simple steps you will find on how to delete Spotify account.
Related Blog: How to Get More Views on YouTube and More Subscribers by Following Some Smart Strategies
You may close your Spotify account using a web browser on your smartphone or computer. The option is not available in either mobile or desktop applications.
Keep in mind that deleting your Spotify account will result in losing all your playlists and followers. If you have a student discount, you will not be able to utilize it in the next year. Thus, you will need to be careful before going for the delete option.
How to Delete Spotify Account?
Follow the instructions mentioned below to delete your Spotify account.
Select "Account" on the Contact Spotify Support page.
Select the option "I want to close my account".
Confirm whether you want to deactivate your account permanently or only cancel your paid membership. To proceed with the deletion, select the black "Close Account" button on the left side.
You can either close your account or can cancel your subscription.
Next, you will get "We are sorry you wish to leave us," and this will lead to starting the five-step process to terminate your account. After each step, select the option "Continue" button to proceed.
Confirm that you are logged in to the correct account.
Once you've confirmed that this is the correct account, click "Continue".
Spotify will notify you that your following and playlists will be lost. Select the blue "Continue" button after checking the box stating you understand the implications.
On the following page, click "Continue." You will receive an email addressed to the email address you used to sign up, asking you to confirm that you still want to terminate your account.
Click the URL you were sent and choose the last "Close My Account" option. This is represented by a green button and must be clicked within twenty-four hours after receiving the email.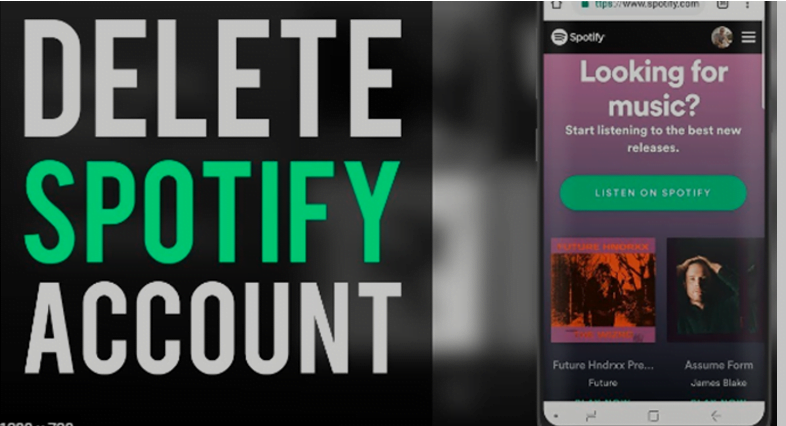 Conclusion
Hope you found answers to the question 'how to delete Spotify' Spotify has become one of the most popular music streaming applications throughout the world, and people enjoy listening to, discovering, and sharing music on this platform. It also features viewpoints and beautiful tunes by outstanding performers. Despite its many excellent features, the app also has the option to close Spotify account. You may close your Spotify account if you no longer use it by following the steps as to how to delete the Spotify account.