Many people in the computing field rely on USB flash sticks to expand their computers' storage space or share data, such as files, videos and so on with friends. When you discover you've lost vital information on a USB flash drive, it may be distressing and cause a lot of worries.
On a Mac, we are going to demonstrate how to recover data from a flash drive mac. Today, we are going to introduce you to the most amazing recovery tool "Tenorshare 4DDiG" which is recently updated to the 9.1 version. In this version, it became more powerful than before. We will also discuss some manual processes to recover files from usb on Mac. So, let's get started.
The Best Way to Recover Deleted Files from USB Flash Drive on Mac With Tenorshare 4DDiG
If your USB flash drive has been formatted, deleted, or infected with a virus, "Tenorshare 4DDiG" can get your files back. The comprehensive guide to USB recovery on a Mac is provided below. Due to an update to "Tenorshare 4DDiG," it is no longer necessary to turn off SIP on your Mac. Attempt to reclaim your files by following the easy steps outlined.
Step 1: Connect the USB drive
It's necessary to get "Tenorshare 4DDiG" installed on your computer before you can begin. Start the programme, plug the USB drive into the computer you just deleted everything from, and then select the drive to scan.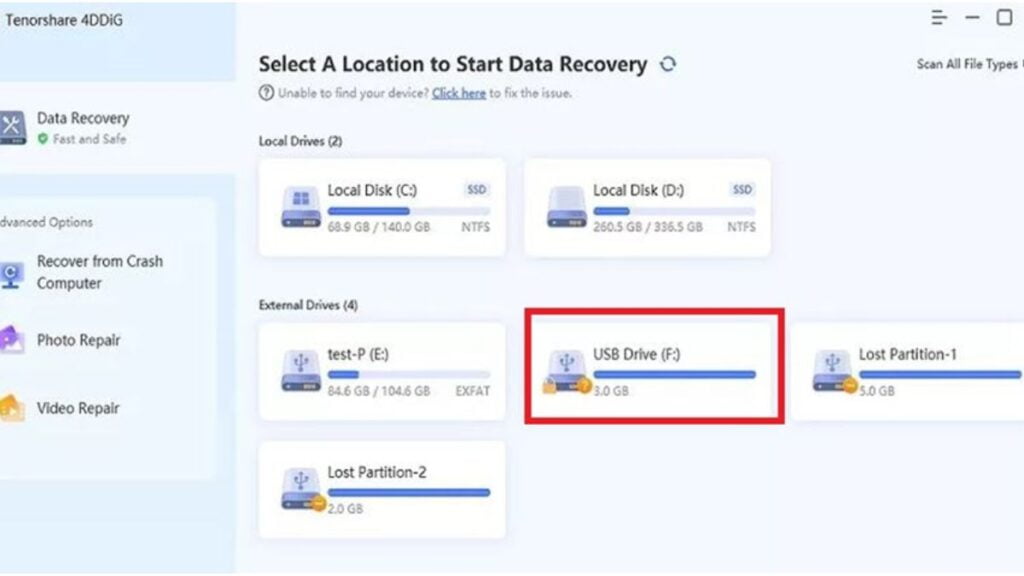 Step 2: Scan the USB drive
4DDiG scans the external USB drive for lost data promptly, and you may pause or terminate the search at any moment. After the scan is completed you can search for your files from the recovered files.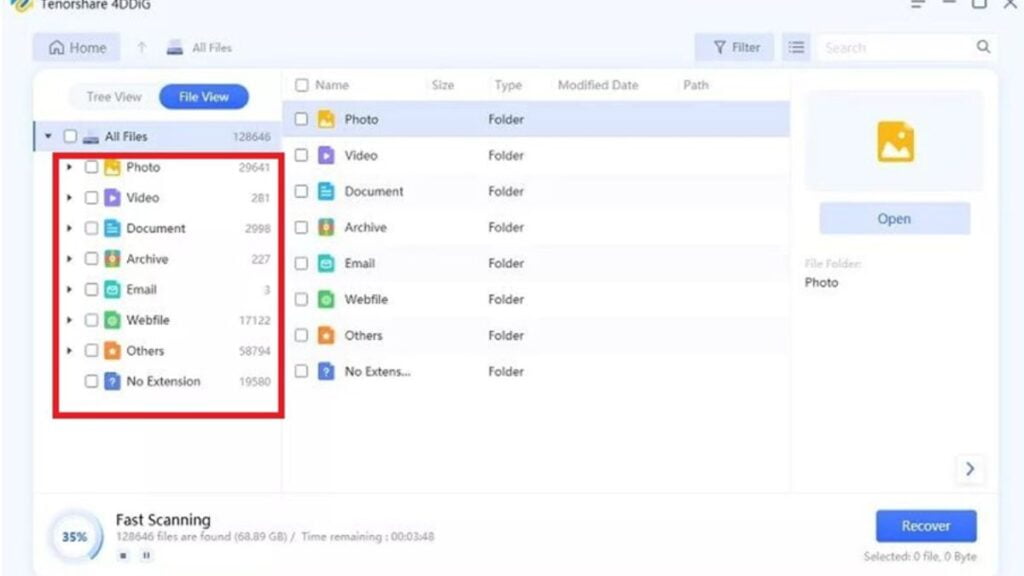 Step 3: Preview and Recover
You may preview and recover target files after finding them. If you lose data due to disk overwriting, don't save it to the same partition.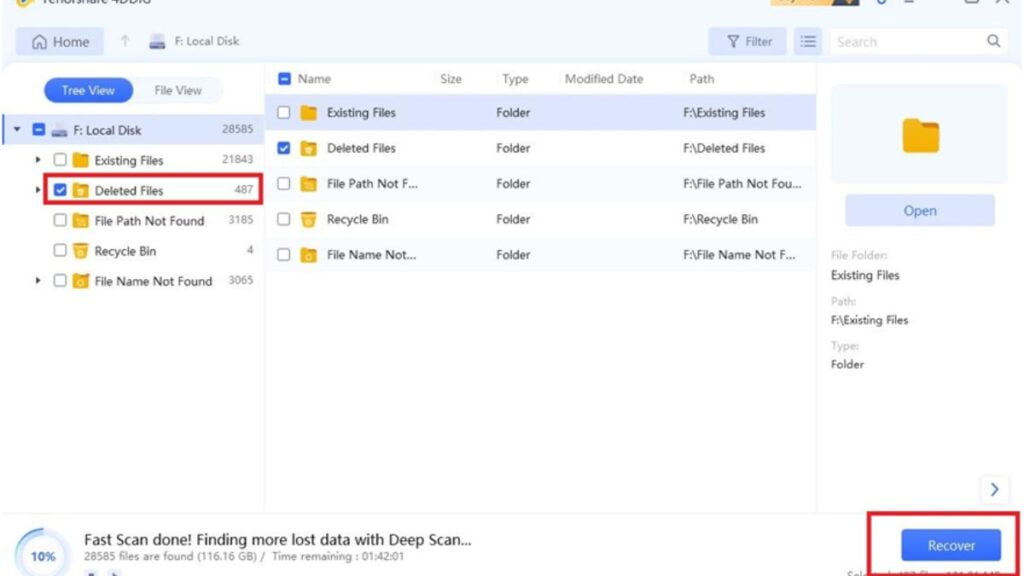 Other Methods to Recover Deleted Files from USB Flash Drive on Mac
Here we have two extra manual methods to recover files from a flash drive on a mac. This is also an effective solution against data loss. Let's get started.
Method 1: Check Mac's Trash Can
Checking the Trash on your Mac is one of the simplest things you can do to investigate the possibility of regaining access to items that were previously stored on a USB flash drive.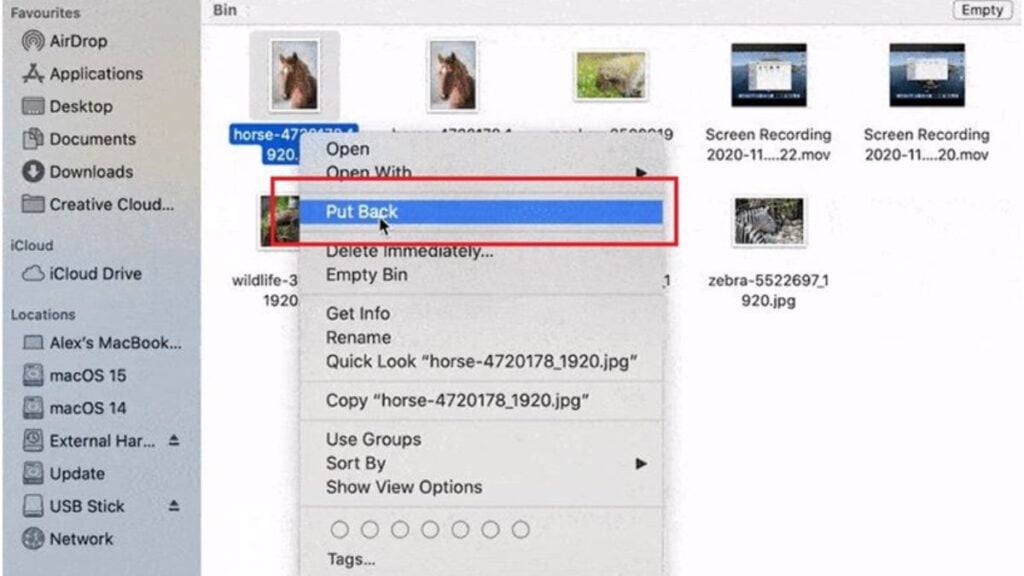 It sounds very normal method but it's really so much effective. You can restore lots of deleted data from Trash Can. To recover previously deleted files from your Trash, right-click the folder, and then pick "Put Back" from the context menu. After that, the files will be restored to their previous locations.
Method 2: Check Other Trash
Deleted files are stored in a different location for each disk that you connect to your Mac. The amazing thing is this does not store in one Trash folder.
It's important to note that the items that appear in your Trash folder may be different depending on whether or not you have a specific disk attached to your computer.
However, if you wish to explore a drive's Trash, you may do so by enabling hidden files.
Let's discuss the way to enable the hidden files to recover USB drive on mac:
Process 1: If you have macOS Sierra or a later version, you may toggle the visibility of hidden files in Finder by touching the button Shift + Command + . (period). After that, there will be a folder in the list of hidden files that is denoted by the name ".Trashes."
Now, you are free to navigate to that folder and sift through the data that has been removed from your flash drive.
Process 2: You will need to launch the Terminal application on your Mac so long as it is running a version of macOS that is older than Sierra. The easiest way to open the terminal application is to press Command + Space.
Now type the following code into the terminal and press "Enter".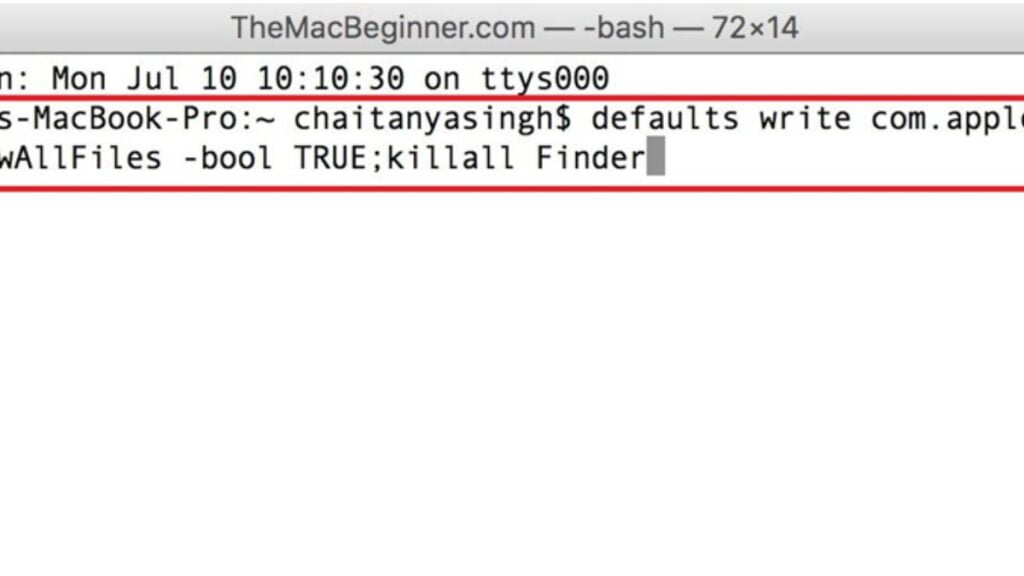 After that again type the following code and press "Enter".
This is how you can do USB recovery on a mac.
How to Protect Our Files on USB Drives?
You can save all the data you have in your flash drive if you become a little bit careful because it's not rocket science. Here we have a guide for you, try to follow it to protect files on our USB drive.
Take care of your USB storage device: As a precaution, you should detach your USB drive from your computer before you physically remove it, and you should take care not to interrupt any ongoing read/write activities until they are complete.
Avoid physical damage: A USB drive can be completely ruined by physical damage in a matter of seconds, and in many cases, it cannot be repaired. To prevent this situation try to keep your flash drive to a safe place always.
Keep Backup: Losing a USB flash drive is a common matter. That's why try to keep a backup of your important data in another place.
Protect USB flash drive from Malware: In order to keep your USB flash drive free of viruses and other malware, you need to install an anti-malware program on it.
Use multiple USB flash drives: Try to buy more than one USB flash drive and also try to use different USB flash drives for different purposes.
Conclusion
If you've accidentally deleted anything vital from your flash drive, don't despair, data may be recovered. We already discussed some methods to recover data from a USB flash drive. Follow them carefully to do flash drive recovery on mac. On the other hand "Tenorshare 4DDiG" is one of the best tools to recover deleted data. Using this you can retrieve data more easily than another method.