You've just bought an iPhone. You opened your messages app and you see, everything's different. You want to send a GIF but you are stuck wondering how to send a GIF on iPhone. We'll tell you how, and that too, within just an article. You'll need to read this whole article to understand how you send gifs from your new iPhone.
Let's get things cooked up.
What is a GIF?
If you're completely new to the system, we would like to give a brief about what a GIF means. The full form for GIF is Graphics Interchange Format. A GIF has the capacity to contain 256 indexed colors. Each of the files can contain up to 8 bits per pixel. It can be thus, said as a type of file format where you can see very basic animations.
This eas developed in the year 1987 by the Internet Service Provider named CompuServe. It was created because the size of the images had to be reduced so that short animations can be sent without increasing the size of it.
GIFs became popular quickly. People started using them as emojis, to express how they feel. Another reason why it gained popularity was due to its global reach. The short animations were not restricted to one single type. All sorts of relatable GIFs could be found across the internet which made it what it is today. In recent times, GIFs started being a source of memes on social media which is being used on a daily basis.
GIFs do not come all readymade. Some GIFs can be made in fact you can turn any short video into a GIF by yourself and then send it to anyone. Let's see how this works.
How to send a GIF on iPhone from the Messages app?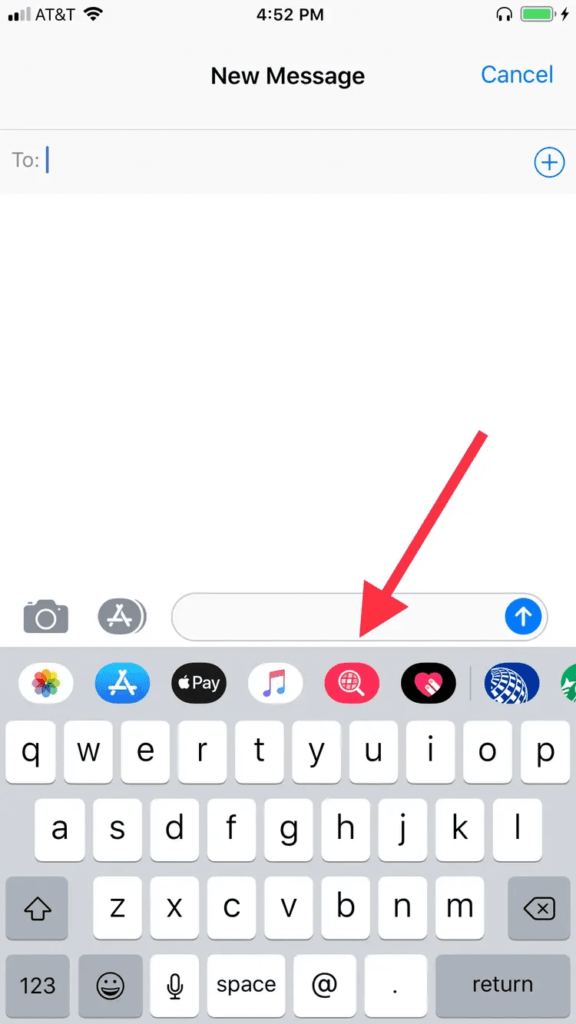 Here's how you can send a GIF to anyone on your iPhone from the Messages app. Just follow the steps given here to complete the procedure:
On your iPhone, open the Messages app.
Then, tap on the create option, shown by a notepad and a pencil. Then click on the contact you want to send the GIF to. Or you can also click on an existing conversation to send GIF.
Then, click on the search button. After that, tap on Find images and then enter a keyword. This keyword is exactly what will be the content of the GIF. Let's take an example. You wish to send a user, a "thank you" GIF. so, you will have to search for "Thank you" in the search box. And then select the GIF that you wish to add. And then, add it to your message.
After that, click on the upwards arrow or the upload option to send the GIF to the user.
How to save a GIF on your phone?
Did you know that you can also save GIFs? If not, we will tell you how you can save them. If you already know how to do that, you can skip this part also. The steps for saving GIFs are:
Open Messages.
Go to the conversation where you want to save the GIF from. And open it.
Then, long press on the GIF that you want to save and then click on the Save option that arises. If you use the iPhone 6s or the versions released after that, then you will be able to use 3D Touch in order to save a GIF to your gallery. To do that, long press on the GIF, and then swipe up. After that, click on the Save option. And your GIF will be saved in your gallery.
Conclusion
We learned what is a GIF and how to send a GIF on iPhone and then save it later from this blog. It revolves around the Messages app of the iPhone. You can also go through the Frequently Asked Questions section if you have more related doubts. Now it is your turn to tell us if this worked out for you. Subscribe to our newsletter, DigitalSushma for more updates on tech blogs like this one.
FAQs
When was GIF developed?
GIF came into existence during the year 1987 and it was developed by the Internet Service Provider named CompuServe. Since then, its usage has been known all over the world and in the due course of time, it gained much popularity to be used as an everyday element.
Are a GIF and a video the same?
The answer is no. GIF and video might look similar but they are very different. Graphics Interchange Format is the full term for GIF. A video can be described as something similar to visual images while a GIF can be described as a digital file format.
How to report any concerns with an image on GIF?
To be brutally honest, some GIFs can be inappropriate for the eyes. But no worries, since you can report your concern regarding them. Tap on the search button and then write out the name of the GIf you want to report. After finding the image in the search results, click and hold on to
it to see a preview that's larger than the one before. Take a screenshot of the GIF. Then go to your mail, and email the screenshot to images-reports@apple.com and then describe your concern in brief and send it. If you have a copyright issue, you can also mail them regarding that. And quick action will be taken against it.
I can't find the #images on my phone. What to do?
When you see that the #images are missing, here is what you can do. Go to the app drawer and swipe left. Then tap on the three dots. Then click on Edit and then click on the green colored plus icon to add the #images app to your iPhone.
You will have to remember something. The #images app is available in the US, Germany, UK, Canada, Italy, Ireland, India, Singapore, New Zealand, France, Japan, and the Philippines. Other than these places, the #images app is not available. Thus, make sure that your keyboard is set to a supported language beforehand. For this, you can go to the Settings of your iPhone and then go to General and after that, click on Language & Region and set it to one place where it is supported.