Wait did you just again see a moving image on Facebook that sort of looks like a boomerang well then you have seen a GIF. What is a gif? How do you post a GIF on Facebook? Is it all the same or is it different from a picture?
Just for answering all these questions, we have come up with yet another blog for you. And this blog we will tell you about what GIF means on Facebook and how you post a GIF. The bonus thing about this article is that we will also say tell you what is an avatar GIF.
Understanding What is a GIF
You must be wondering what is the GIF and what does it stand for?
GIF stands for graphics into change format it is a kind of bitmap image format that was actually created or another word developed by a group of online service providers. It was released on 15th June 1987 and is mostly known by the meaning of image file.
In general, the GIF format is just like one of the formats of JPEG or PNG file formats but this one is used to make animated images. GIFs became popular at the stage of the early internet and they have been in use ever since that time.
Now you must be thinking is GIF the same as videos? The answer is a big no. GIFs aren't really videos they are more like flipbooks. You have noticed that they don't have a sound and neither they were created by animators.
So How Does a GIF Work?
Basically, GIF holes multiple pictures at the same time and then shows them in a second sequential way which makes them believe that they are basically videos but they are not.
How did GIFs Gain Popularity?
GIFs are useful for communicating some kind of expression of emotional ideas or even jokes. What's up Facebook are full of all readymade GIF for you to use they just work like the stickers or emojis that are on your keyboard.
What is an Avatar GIF?
Avatar Gif is basically a sort of GIF but with a little bit of personality in it. And it is not that blue kind of a person movie character. You must know and have noticed before that people have been using their animated faces as a form of stickers and GIFs. Animated faces are known as Avatar GIFs.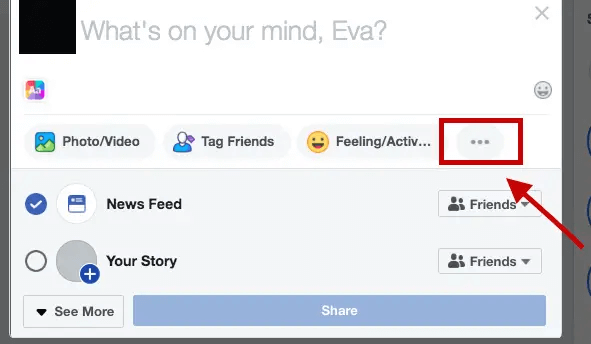 How to Use GIF for Facebook on Android/iPhone?
1. The first step is to open Facebook.
2. On the homepage, click on the Write something here box. This will create a new post.
3. This will lead on to the next page where you will have to create the post. Tell the bottom of the page you can see a lot of options like Photo/Video, Tag People, Feeling/activity, Check-In, and others. Scroll down till you find the end of the options. Now you can see the GIF option. Click on it.
4. On the next page, a list of GIFs will appear from here you can select the GIF you want to post or you can even search it in the search box that is given right above it and then press enter on your keyboard. After you have selected the GIF you want to post click on the GIF. It will take you back to the Create Post page.
5. Now you can add a caption, add a feeling or activity, tag people and then click on the blue Post icon on the top right of the page. And the GIF will be posted on your Facebook account.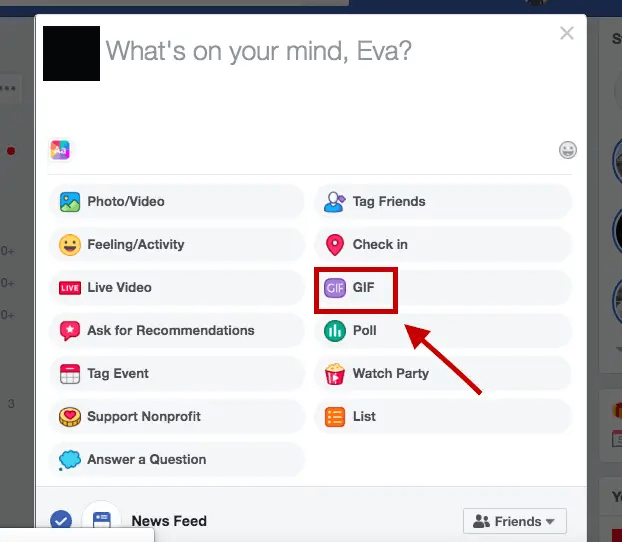 How to Post Animated GIFs on Facebook on a Laptop/PC?
1. Go to Google. Type Facebook and log in to your account. The Facebook app can be used too if installed on your laptop/PC.
2. Click on the What's on your mind box. At the bottom, a bar appears which has a lot of icons. At the right end of the bar, you can locate three dots. Click on that.
3. Then click on the GIF option from the list of options you have.
4. You can select a GIF from here from the list or by typing in the search box and then finding it. After you've found the GIF you want to post, click on it. You will be back again at the Create Post page.
5. Add captions, tag people, add location, or even add a feeling/ activity and then click on the blue post icon underneath. And your GIF will be posted.
Conclusion
Surely there have been a lot of tries to replace this ever-old outdated format but there has been a failure. GIF files are exactly 8-bit. This does not start they are basically restricted to a set of 256 colors and that is exactly why they end up looking not so nice. There is various development to replace the format of gif but not any one of them succeeded because of several reasons. Sometimes the HTML didn't all support a video and the other times the browser's different from each other. So that is a reason people still tend to stick to this ever-old animated picture kind of a thing which is extremely easy to make. This is the reason why GIF for Facebook is just like water for humans. There are just thousands of different software and websites that make GIFs and the process has been easier ever since the development of many photo editing apps that allow for making GIFs.