Twitter is an open social network that people use to talk to each other in short messages called tweets. Whether you are sharing the latest news, posting up-to-date data about your organization, or following an important VIP, individuals use Twitter to communicate with others and stay on top of each other. In this write-up, we will talk about Twitter's advanced search and image search techniques.

The underlying cause for the rising popularity of Twitter:
There are winners and losers in the ocean of various social media networking sites. The winners have an undeniable top tier. In a nutshell, the latest social networking superpower is text-powered Twitter. Unlike other popular social media websites, Twitter is the fastest way to make news and information viral. Information moves as fast as you type your finger and press Enter by sharing news articles, videos, and links to websites. Twitter may not be as widely used as its predecessors and the rest of its competitors, but it does offer an innovative approach to social networking. It is no longer just individual users who are attracted to the site. Companies are becoming aware of the potential of marketing and advertising in such systems.
Why search tricks are important on Twitter
Twitter doesn't let you hide anything. Share funny tweets and talk to your favorite celebrities, athletes, and journal celebrities [wired]. Finding something on Twitter is so easy. But, there are many options for narrower and more concrete results on Twitter. Many Twitter analysis tools are available online. Here are four different tricks for advanced Twitter search.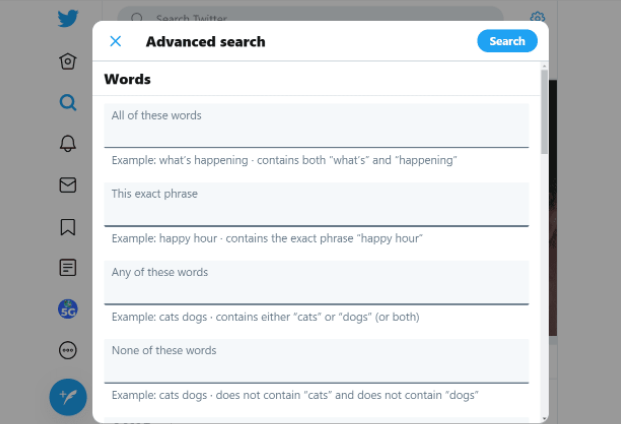 1. The easiest and most traditional way is to enter the word you want in the search field and press Enter. Twitter gives the most relevant results accordingly. This is the most straightforward method to search Twitter.
2. Target Specific Results: If you want to minimize results, you can use "More Options."Type the word you want in the search bar, and press Enter to take advantage of this.
3. Using advanced options: You can access advanced options on Twitter in two ways.
– Use the "More options" advanced options drop-down menu, as shown in the image above.
– Access the URL directly: – https://twitter.com/search-advanced
With Twitter Advanced Search, there are more than 12 ways to reduce your Twitter search results. Almost all the options are very trivial. You can use many search types at once to get more detailed search results.
4. Using search operators: Using Twitter operators also provides search capabilities. The URL to search using the operator can be found at – https://twitter.com/search-home#
The search term is known as "search" to describe a search operator. Below are the search operators and their meanings. Using a search operator can be a hassle if you are new to it. But, if you use it frequently, it may look like a shortcut option for the advanced search option.
Conclusion:
Twitter advanced searches allow you to do a plethora of tasks. Increase your social worth by learning the art of tweeting.