No time to go through the entire article? Go directly to Strikingly to take advantage of 30% Off when you upgrade by clicking this link!
One cannot deny the widespread adoption of free website-building tools. They make it possible for a non-technical individual to set up their own website without the help of a professional designer. To my surprise, the quality of the sites I've created using these free tools has been quite high.
It's growing harder for new companies to advertise their platforms in this saturated market. Strikingly, though, has made its way in through the back door, and it does so in the guise of single-page websites.
Strikingly website builder restricts users to creating single-page websites rather than enabling them to tinker about in the editor. One-page websites are all around you, so even if you don't know what they are, you've undoubtedly seen plenty. Probably, you just didn't have any cause to look into it and figure out what it was.
These sites typically have only one, very long page that has all of the relevant information, as opposed to several links leading to the same place. The navigation bar at the top of your site can still contain links, but they should now only go to internally linked content farther down the page.
Strikingly is a great option if you want to make one of these pages, which have recently gained popularity.
Go to Strikingly to take advantage of 30% Off when you upgrade by this link!
Strikingly is the best website builder to use if you only need one web page and you want it to look amazing. This landing page can be used for e-commerce by anyone, from the most humble blogger to the owner of a one-person shop. The editor is intuitive, letting you quickly relocate between sections and insert/delete/format new ones as needed. Even more so, you can use it to create a simple online store where real and virtual goods can be bought and sold.
When it comes to more complex tasks, however, a website builder like Strikingly starts to feel too limiting. If you want to become a popular blogger or grow your business, strikingly won't help you much. In this case, some viable alternatives include WordPress, Squarespace, and Wix.
Key Features – Strikingly Website Builder
One-page websites are focus solely on creating single-page websites that can be modified in a different ways:
E-commerce: With simple-commerce, you can open an online shop in a matter of minutes and begin selling an item online immediately.
Built-in Analytics – Analytics is pre-installed, allowing you to view simple graphs that show you how popular your site is, how many people are visiting it.
Easy Blog Feature – Using the Strikingly website builder, choose your theme and it can be easily created and maintained.
Summary of the Review – Strikingly Website Builder
This review will involve me signing up for a free account with Strikingly and exploring its features. I'll look into everything the platform has to offer, set up a test site to learn the ropes, and share what I find in the hopes that it helps you decide on a free website builder.
Go to Strikingly to take advantage of 30% Off when you upgrade by this link!
Facilitation of Use
Strikingly's ease of use stems from the fact that its primary purpose is to facilitate the development of landing pages and compact individual or company websites with fewer sections.
You can see right away that this free website builder is designed for beginners and minimalists when you visit the registration page. After entering your name, email address, and a password of your choosing, you can begin using the platform immediately.
The entirety of Strikingly website builder is a delight to work with. You're never more than a mouse click away from choosing from available templates and adjusting the look and feel of your fresh website. Everything is incredibly user-friendly, and beginners can learn the ropes in just a few minutes of exploring the interface.
Templates
If you've used any other free website builders before, you know that the next step after signing up is choosing a design. When I looked into it, I found that Strikingly website builder offered just over fifty templates across multiple categories. I anticipate that number to grow substantially in the near future.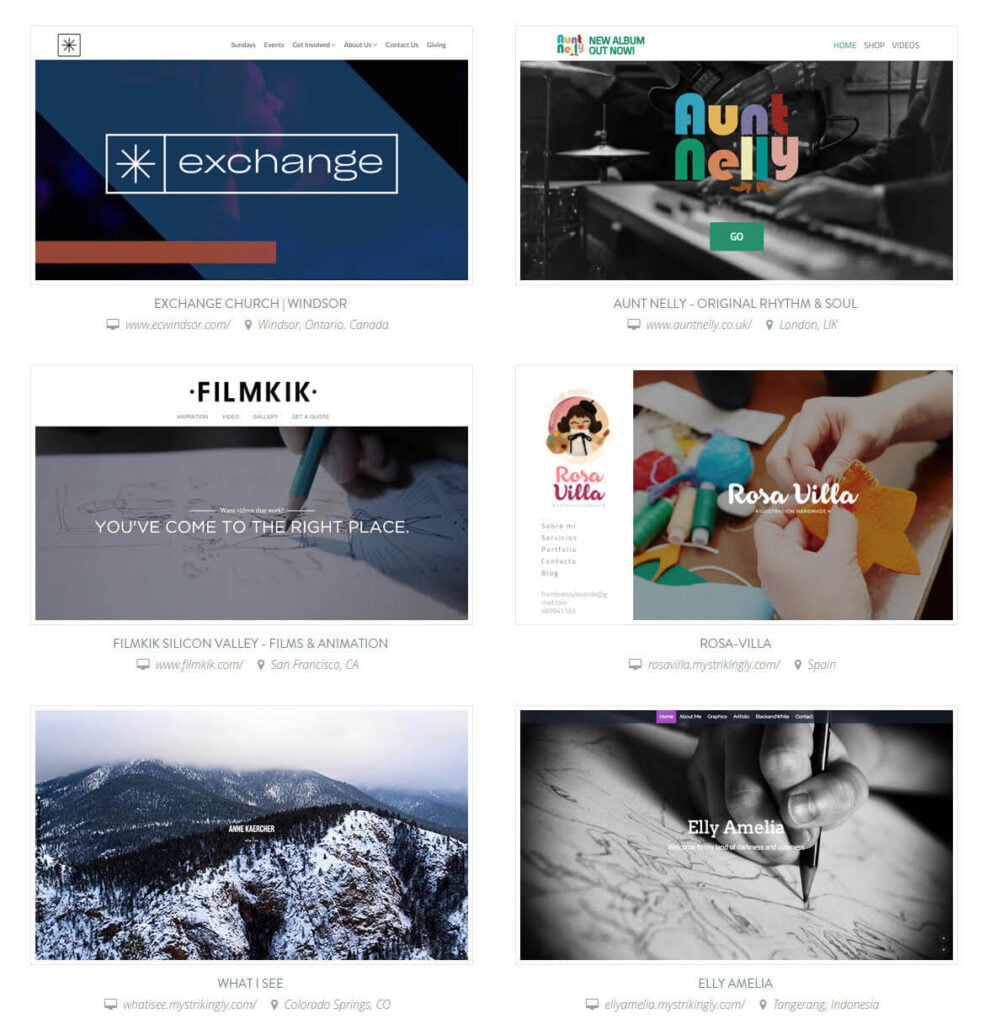 I have no doubt that you can discover a template that works for you, whether you narrow your search by industry type or just based on the design of the demo site. Please note that you can view sample documents by opening them in a new window while browsing the templates.
Everything you decide at this stage is flexible and can be modified at a later time, unlike with some other builders where the template you choose has a significant impact on the rest of the building process. In the following part, I will describe the many layouts available to you.
Go to Strikingly to take advantage of 30% Off when you upgrade by this link!
Flexibility of Design
Since this is a platform for creating single-page websites, everything is structured according to these sections. To be more precise, a section is a collection of parts that have been assembled into a more complex whole. You can find areas that are specifically made to display information, social feeds, blogs, products for sale, and so on.

When compared to other free website builders, Strikingly website builder allows you to design your site in sections rather than by adding things individually. That's right; you can't add pieces one by one, only sections with predetermined layouts that can be modified afterward.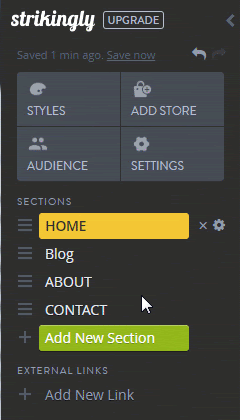 Though this may seem like a major downside, remember that this service is designed for single-page websites. However, there is considerable leeway for personalization across each subsection. To customize the presentation in terms of order, content, and media, users can do so in a variety of ways.
Unsplash is pre-integrated into Strikingly website builder, giving you access to thousands of public domain images. Your own images are always welcome, too. Images can be modified right in the Editor if you click on them. This eliminates the need to open a separate third-party photo app so that you may complete the necessary tasks.
Their ability to bring life to single-page websites with straightforward personalization and animations impressed me. However, not all article formatting options are cost-free. If you want access to everything, though, you'll need to spring for a premium membership. More on pricing will follow.
Domain options
The free edition of Strikingly website builder, like all other free website builders, includes a free subdomain. That's right; pick a part of your domain name and you can end up with something like yoursitename.mystrikingly.com. While your site's name is generated for you by default, it's important to know that you may modify it at any time in settings. It was simple for me to make the website digitalsushma.mystrikingly.com/.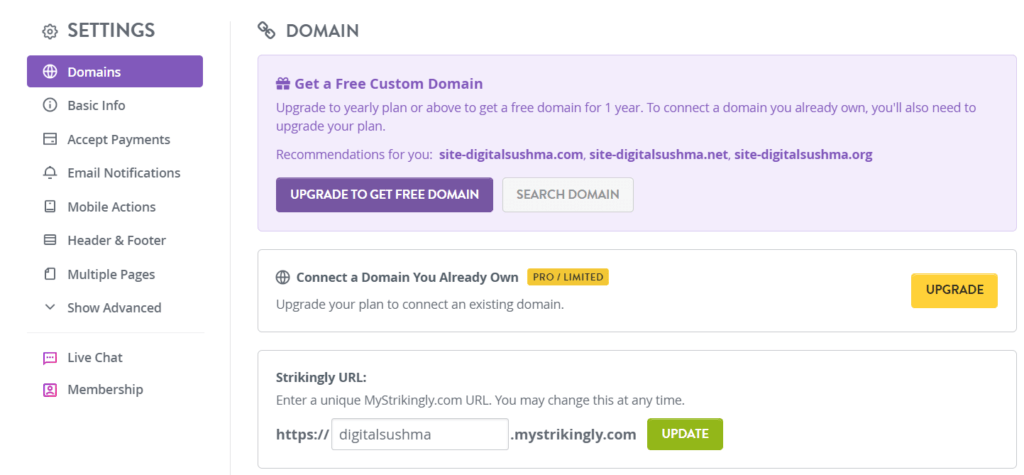 A free subdomain doesn't have any drawbacks, but you should know that it includes Strikingly's logo and some other branding on your site.
Of course, you'll need to subscribe to one of their expensive plans in order to connect your existing domain or purchase a new one and utilize it with a custom name, both of which will get rid of their branding.
Go to Strikingly to take advantage of 30% Off when you upgrade by this link!
Designing a Mobile-Friendly Site
When you use Strikingly website builder, you can see your new website on desktop, tablet, and mobile without actually loading the URL onto a different device. To do this, select a preview icon and the Editor will display the resulting image.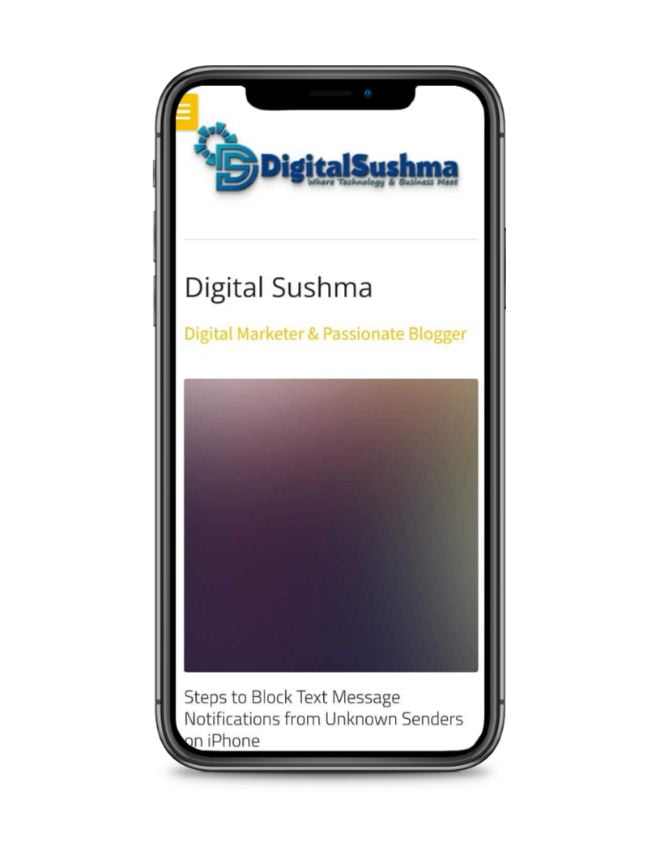 Wow, nice work there. Really, I was shocked to see how good Strikingly-made sites looked on mobile.
However, there isn't much you can do to optimize a site for mobile other than previewing it. There won't be any options to tailor the experience for mobile users, such as hiding photos or adjusting the font size. You can only pray that your site's content displays correctly even on mobile devices with smaller screens.
SEO Optimized (Search Engine Optimization)
The options for optimizing your Strikingly site for search engines are minimal. You can only edit the most fundamental information, including titles and summaries. Social media icons and favicons can be added fast, but that's about it. When uploading images, you have the option of including an alt description, which could aid SEO.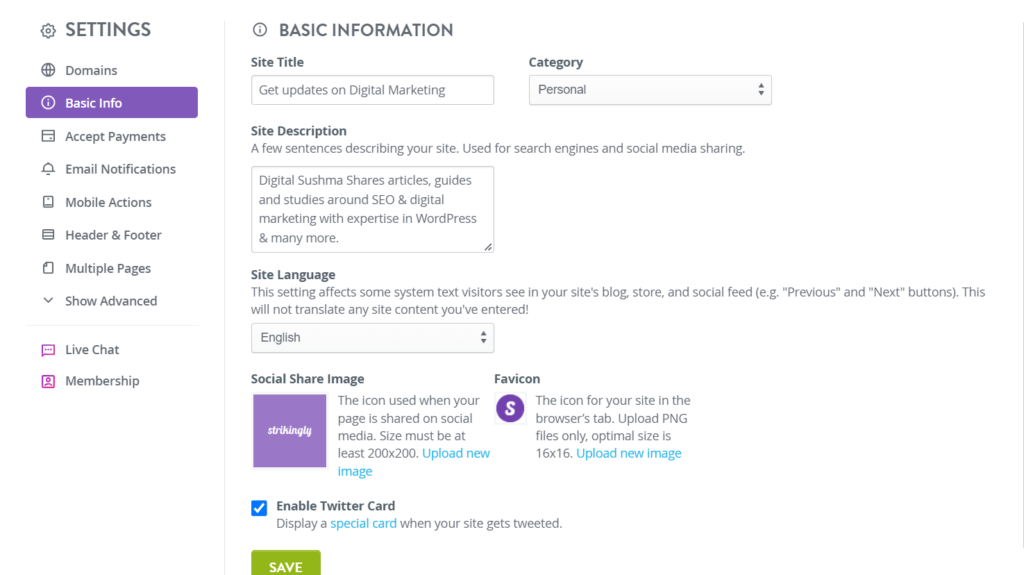 By consolidating content onto a single page, you make it more difficult to manage SEO. That's probably why there aren't as many SEO strategies to choose from. In any case, I hope that some additional customization possibilities will be made available in the not-too-distant future.
Go to Strikingly to take advantage of 30% Off when you upgrade by this link!
Benefits of Using a Blog
Strikingly wasn't made to be a blog host, but it does have a built-in blog feature that makes it easy to set up a journal-style blog in a hurry. Including the proper data is the final step before you can begin posting.
You can modify the number of featured articles displayed on the homepage, the appearance of the blog's background image, and the order in which your most recent blog entries appear. Just one click and you can permanently install one of the posts.
In addition, both publishing new content and editing existing blog entries are simple tasks. However, keep in mind that you have to make do with the fundamentals. It is possible to write and include media. Organizing your content is possible. Only comment approval and deletion, as well as analytics viewing, are under your control.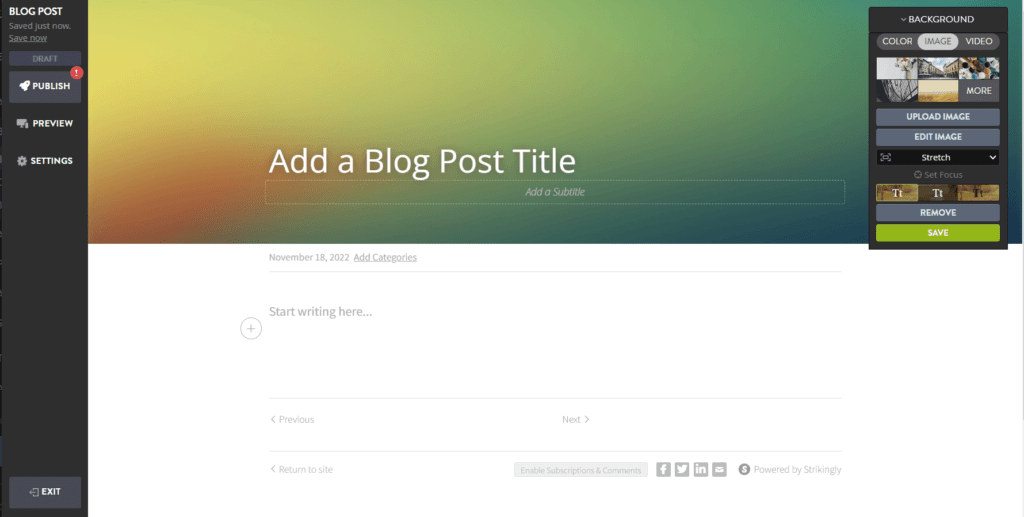 You'll be fine with what Strikingly website builder provides if this is your first website and blogging isn't going to be your main focus. But if you intend to do serious blogging in the future, you should look into alternatives or switch immediately to self-hosted WordPress.
Integration of eCommerce
Strikingly surprisingly has built-in support for e-commerce businesses. To top it all off, your brand-new online store will essentially be a subsection of your existing single-page website.
In a short amount of time, you can have your online store ready to accept orders for physical goods. You may sort them into different sections, handle shipping and taxes, and begin accepting payments all through Strikingly. With only a handful of viable e-commerce platforms available, it's clear that Strikingly isn't the best choice for a store with hundreds of products. If you merely have a few products to sell, though, Strikingly website builder can be a useful tool for streamlining your operations and even turning a profit.
Strikingly just released a new version of its e-commerce platform, dubbed "Simple Store." You may now offer downloadable products with the help of Strikingly's automated link generation. Quite satisfactory!
Pricing & Upgrade – Strikingly Website Builder
There are limitations on the free version of Strikingly. You will get a risk-free 14-day trial available for all premium plans. Additionally, you can select a plan that lasts for a month, a year, 2 years, 3 years, or 5 years.
Go to Strikingly to take advantage of 30% Off when you upgrade by this link!
Monthly Plan
FREE
PRO
LIMITED
$0/month
Forever
$20/month
Billed monthly
$12/month
Billed monthly
Strikingly.com Domain
Connect Custom Domain
Connect Custom Domain
Unlimited Free Sites
3 Pro Sites
2 Limited Sites
5 GB Monthly Bandwidth
Unlimited Free Sites
Unlimited Free Sites
500 MB total storage per site
Unlimited Bandwidth
50 GB Monthly Bandwidth
Up to 5 pages per site
Up to 100 pages per site
Up to 5 pages per site
Simple Store – 1 product per site
20 GB total storage per site
1 GB total storage per site
Invite Collaborators
Simple Store – 300 products per site
Sell a single product
24/7 Support
Site Membership
24/7 Support
Custom Forms
14 days risk-free
Strikingly App Store
Store Product Reviews
Pop-Ups
Embed HTML/CSS/JavaScript
Remove Strikingly Branding
Password Protect Your Site
Site Search
Custom Font Upload
Restore historical version
24/7 Support
14 days risk-free
Customer Support
Learn the ropes of the Strikingly editor and its many configuration options with the help of the extensive documentation provided by the tool. You can learn how to modify your site's language settings, add background images, modify your site's layout, and much more by watching tutorials created specifically for new users.
Unlike its competitors, Strikingly website builder doesn't have you hunt around for its contact details; they're all conveniently located in the page's corner. As a result, help files are only a mouse click away.
Strikingly pros and cons
Pros
Superior Usability: Strikingly may be learned in a matter of minutes. A website editor is intuitive enough that even a complete novice can figure it out.
Focus: Strikingly, unlike most of its competitors, concentrates on creating one-page websites, including for e-commerce. As a result, things are simplified without losing effectiveness, which is a major benefit.
Editor: An excellent-looking and functioning editor. It has all the features you'd need in a basic editor, plus it's easy on the eyes.
Cons
Mobile optimization: For mobile optimization website, you can see a preview of a mobile site that is automatically generated, but you won't be able to make any changes to the responsive website, such as relocating or removing elements or sections
Price: To link a custom domain for your website and remove Strikingly branding, you'll need to pay more than the usual price with Strikingly.
Conclusion
When compared to other free website builders, Strikingly website builder is aimed squarely at those who wish to create single-page sites. In that regard, it succeeds admirably. Strikingly can meet all of your web design needs to be provided you don't have any unusual preferences.
Adding a blog or setting up a basic online store is easy, but you can expect minimal customization options. Strikingly's one and only function is to assist beginners in making a landing page that does not need to develop into anything more complex; if your goals later on call for a more complex site, you will need to go elsewhere. If so, go ahead and sign up for an account; it won't cost you a dime.
Go to Strikingly to take advantage of 30% Off when you upgrade by this link!
FAQs
1. Can I get a Strikingly website for free?
It's true that you may make a website with Strikingly website builder without spending any money. As many free websites as you'd like are yours to make with this account. You're allotted 5 GB of bandwidth each month and 500 MB of total storage space (per site). Additionally wonderful is the fact that you can open a store selling a single product for absolutely zero cost.
2. Can I use Strikingly to market and sell digital goods and services?
As for selling digital goods and services, you can do so using Strikingly's Simple Store. All you have to do is upload a file and set a price, just like the rest of the platform. Your customers can download their digital goods for up to 72 hours after making their purchase.
3. How much are Strikingly's transaction fees?
If you're selling something, you'll be happy to know that it doesn't cost you anything to list it on Strikingly. With Strikingly, there are no hidden costs associated with opening a store (e-commerce website), adding items, or accepting payments.
4. What about using my own domain name?
A Strikingly subdomain is included with the basic plan at no cost. If you sign up for one of their paid plans, though, you can utilize your own domain. When you're ready, just acquire a new domain name or use an existing one to link to your Strikingly site.
5. What are the requirements to create a blog on Strikingly?
Without a doubt, yes. On Strikingly, there is a built-in blog feature that makes it simple to start a blog right away. It's easy to create new posts, edit existing ones, add media assets, etc. Because the editor is simple to use, you can easily concentrate on the articles you want to write. Strikingly, however, is not appropriate for professional blogging because it is deficient in many features and options found on rival platforms.
6. Should I get a server to host my website?
Not at all; hosting is not anything you'll have to worry about. Strikingly's high-performance, fully-managed cloud hosting is included with every Strikingly site.
7. In what ways can I cancel my subscription?
At any time during your paid subscription, you may downgrade to the free plan by canceling your paid subscription; your current billing period will be the last one for which you are charged (next month on a monthly agreement and next year on a yearly one). If you wish to cancel or downgrade your subscription, you will first need to disable any paid features and any connected websites.
8. What if I want to change my paid subscription?
If you need help, just shoot an email to support@strikingly.com. You can change your plan's duration, from one month to another, or from one year to another, but not the opposite.
Disclosure: This post contains affiliate links. If you use these links to buy something we may earn a commission at no additional cost to you. Our reviews are not affected by participation in such programs.
Read More: