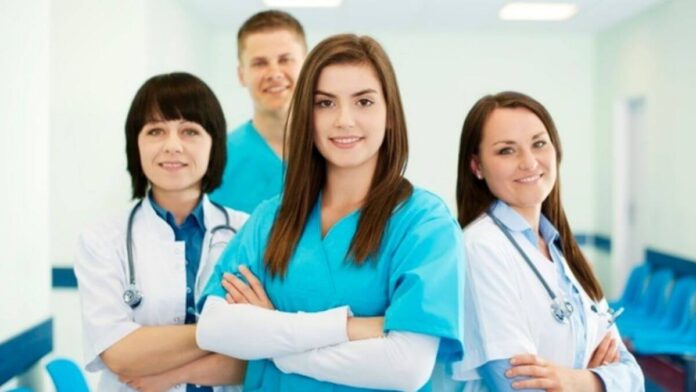 Starting a new career in nursing can come at any time. You may be young and ready to jump right into a thriving career in healthcare. You may be a professional in another role or another industry and finally, decide that it is time to redirect your efforts into nursing. There is no wrong or right time to become a nurse, though right now, there are more opportunities than ever before.
Regardless of whether this is your first career move, your second, or even your sixth, this guide will help you start a new career in nursing and help you get the most out of your new role.
First-Career Options Into Nursing
First-career means that you haven't already graduated from a college or university program. You haven't started your career trajectory and are likely a young adult. The route that you take will depend on your situation. If you need to immediately start making money, then you can take a short course and become a Certified Nursing Assistant. This will allow you to work in care homes and also hospitals providing holistic care like cleaning or providing meals.
The reason why you may want to start as a CNA rather than working towards a BSN is that you can work within healthcare and gain both invaluable experience and also network while continuing to work and progressing through your career.
For most young adults, however, taking time to dedicate themselves full-time for a career is well within their reach. If this is your situation, then tackling a BSN full time can be the perfect way to get you ready to graduate and start your career as an RN.
Second-Career Options Into Nursing
Second-career (or third or however many careers you try out before getting to nursing) means that you have already progressed through a career route and do have experience and qualifications but are not qualified to operate as a nurse. The difference between those just starting out and those who are in a non-nursing career path is simple: you can fast-track your way into nursing.
There are many excellent accelerated nursing programs available online and also part-time, meaning that you can complete your degree while continuing to work and earn money at your existing job. Not all options can be completed alongside another job, however. There are options that help you graduate sooner, but you will need to dedicate your time fully.
Online programs are also going to be your go-to option. Chances are you'll be less inclined to relocate for your education, and an online program offers you the chance to learn from a top nursing school without having to make huge life changes.
Understanding Where You Can Take Your Nursing Career
RNs are foundation nurses that can work almost anywhere, in many different roles and locations. You have a lot of freedom to customize your career as an RN, but if you want to make more money and really specialize yourself in a field where you have more responsibilities and privileges, you will need to further your career with either an MSN or a DNP.
MSN and DNP degrees specialize your training and allow you to work as a nurse practitioner, a clinical nurse specialist, a nurse midwife, or a nurse anesthetist. Though currently you only need an MSN in order to become an APRN (Advanced Practice Registered Nurse), there is talk of increasing the requirements, so earning your DNP as the ultimate goal can help prepare you for a highly specialized, very rewarding career while also safeguarding yourself.
That being said, even with an APRN specialization, you'll want to do a few things to find the right path for you.
Pursue Your Interests
Invest in your interests. The great thing about nursing is that it is ubiquitous. Your job is human health, and therefore you can technically work wherever there are people. Job options will typically be narrowed down to who can pay you and whether you accept that wage, but with the sheer number of ways you can use your nursing degree and your qualifications, the sky isn't even the limit.
Pursue your interests and try to find or make opportunities where you can combine your interest and passion for nursing with what you love to do or learn about. This could be working with children or families. It could be working in the surgery room. It could even be working at entertainment events like music festivals, where you provide first-aid and healthcare support for guests.
Commit to Lifelong Learning
Every nurse, and in fact every healthcare professional, needs to commit to further learning. This could be reading, it could be taking workshops, and so on. Medicine and healthcare change and adapt, and if your field doesn't require you to update yourself on standard procedures and diagnostic methods, then you need to take the initiative.
When you can, always get certified. You cannot work or do anything as a nurse (or physician) without that proof. The good news is that by looking for options that your employer or state will formally recognize, you can cut out the useless content and get right to the heart of it all.
Lifelong learning should, of course, extend beyond what you can be certified in. Never underestimate how important learning, in general, can be both for your career and also for your personal life. From reading about interesting cases to learning a new skill in an entirely different field, expanding your horizons through learning will help you get more out of life.
Shadow and Ask Questions
Shadowing and working in other departments and locations is a great way to understand more about what you want to do and can also be a smart move for your career moving forward. To become a midwife, for example, many programs want you to have previously worked in a mother-baby unit or alongside neonatal NPs and other midwives to get hands-on experience first. Not only will working alongside these professionals help you learn, but it will also help you truly understand what is right for you and how you personally should customize your career to suit your interests and energy levels.