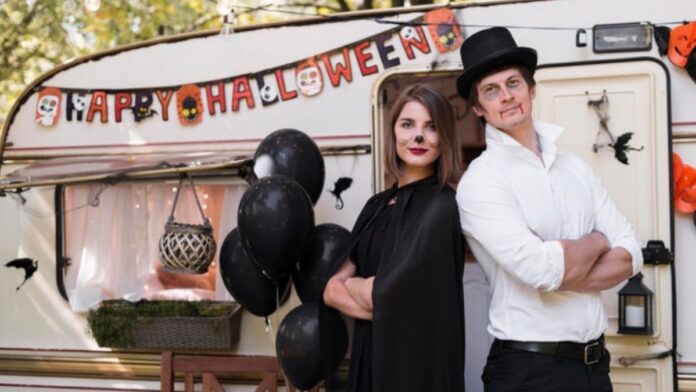 Halloween or Allaloween is a famous festival that is celebrated worldwide. With Halloween around the corner on October 31st, it may be beneficial for you to get some costume ideas for couples. Let's take a sneak-peek into some of the fantastic Halloween costume ideas for couples that will make you stand out and capture all the attention.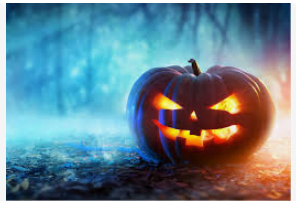 Clowns Costume for Couples:
Clowns are indeed eerie. If you are planning to look scary this Halloween then you can pick up a clowns outfit for yourself and your better half. To add on the eerie effect, you can splash some blood on your outfit and splash some red colour on your lips.
Skeletons Couples:
This is one of the most famous couples Halloween costume, and you can create this skeleton look quickly for your Halloween party. All you need to do is to pick up a bodysuit with skeleton drawn on it, or if you are an artist yourself you can pick up any plain solid black bodysuit and paint skeletons on the same… Make your eyes look dark and do the makeup perfectly to look eerie. Red colours on the corner of your mouth and you are done.
Bride and Groom:
Bride and groom are not always romantic; they can get scary too. If you are planning to look scary in the bride and groom outfit ensure to splash some red colour on your white gown or your men's suit. Splash kohl around your eyes, mess up your hair and add some splash of red colours on your white dress ET, voila you are ready for the Halloween party. If you are looking for last-minute Halloween costumes for couples, then you can choose this style without any second thought.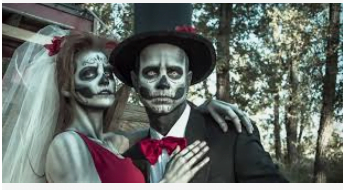 Scooby Doo Couples:
If you plan to look cute in the Halloween party you can opt for this costume party. You can create the costume yourself, or you can buy the costume online. If you are looking for fun couples Halloween costume ideas, then try creating this look.
Hunter and its Prey:
What if you look like a hunter and your partner look like a vulnerable prey? Sounds interesting, isn't it? You can do this exciting makeover at your Halloween party. To look like a hunter, add a tinge of orange to your camo and your lady partner can sport the look of an innocent bear. She may choose to be dressed in a little one-piece dress and can wear the artificial ears to look like the deer. The nose and mouth makeup also needs to be done carefully for your partner so that she could look like the deer. If you are looking for exciting couples Halloween costumes, then choose the hunter and prey costume for your next Halloween party.
Minion's Couple:
Who said that in Halloween party you have to look scary? You can look different from the rest by sporting a minion look. Choose a minion outfit (You can find one easily at the online store)
Zombie Couples:
Zombies are always scary. Isn't it? Zombie couples are common in the Halloween parties. You can create this look easily with the help of the right outfit and the right makeup. If you are looking for couples Halloween costume ideas, then you can go for this one to impress your guests.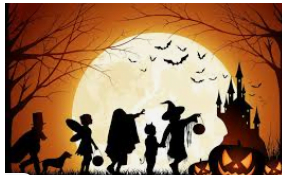 Little Red Riding Hood:
Your favourite character of childhood can get scary. You can look like little Red Riding Hood by picking up the right costume and right makeup.
Google Maps:
Google maps costume is one of the best couples Halloween costumes. Here you and your partner will resemble Google map. To add more creativity, you can add some locations in your dress.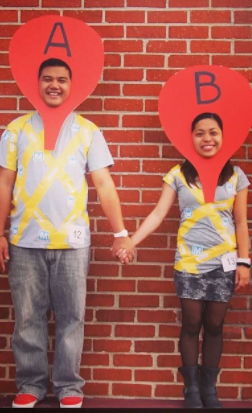 Vampire Couples:
Vampire costumes always work in the Halloween parties. You can look eerie but sassy by sporting the vampire look. You can look like a vampire by choosing darker-toned outfits. For ladies, black skirts with a corset top or black dress can work wonders. Of men, solid black t-shirt and black jeans can do wonders. You need to choose the shoes carefully when you want to look like vampires.
Of course vampires don't roam around in sneakers. High boots can work well instead. For ladies, black heels will also work. You need to look pale if you want to resemble a vampire. For looki9ng pale, you need to the foundation that is one tone lighter to your original skin tone. Also, wear only red lipstick, you can choose a shade between blood red and cherry red. You can wear winged eyeliners if you are a lady. Complete your gothic look by splashing red around the corners of your mouth to create the blood-sucker look.
Fruit and Vegetable Salad:
Are you tired of the traditional looks in Halloween party? How about a fruit and vegetable salad? You can appear like your favourite fruit say pineapple and your partner can dress up like a vegetable say pumpkin. This idea will work wonders and will impress your audiences to a considerable extent. Pick up the right outfit to resemble fruit and salad, and you are all done.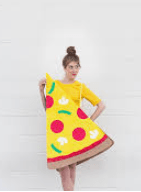 Low Battery without Wi-Fi:
Low battery without Wi-Fi can get scarier than the ghosts. You can create this look easily by choosing the right costume. You can be the phone with low battery, and your partner can be the Wi-Fi with fewer signals.
King and Queen:
You can create the look of king and Queen from your card game. Pick up the right costume from the store. You can accessorize with the kings crown, and your partner can have the Queen's crown. These unique costume party ideas will grab many eyeballs of your audiences.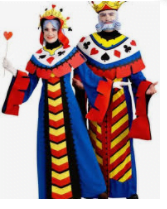 80s Costume for Couples:
The 80s gothic look can be created by choosing the apt hairstyle and the right outfit. You need to choose dark makeups to get the ghoulish look. You can get creative and try to resemble someone from the 80-s. This costume design idea can work wonders and can impress your guests at the Halloween party.
Related Article: 10 Spooky Facts About the History of Halloween
Hence take the help of the above Halloween costume ideas for couples to grab the attention of your audiences and to stand out. You can be the trendsetter by choosing the costumes as mentioned earlier.