Are you also fed up with watching movies and your favourite shows on a small screen of your Smartphone? Are you planning for a family gathering and want to host a movie party? Well, if you are nodding your head, let me tell you that you are not alone in this. Guess what? We have got some amazing ways to help you with that. Yes, you can actually connect your phone to your Smart TV and watch your favourite shows movies and host a movie party on a bigger screen.
There are multiple ways to connect your phone to your TV, from using your mobile phone's inbuilt features to using third-party apps and devices. It totally depends on your Smartphone features. If you are okay with Wires and connectors, you can connect your phone to a TV with HDMI/USB cables, and if you don't, then there are some wireless ways and Apps to transfer your Mobile device media & content to your TV in real-time.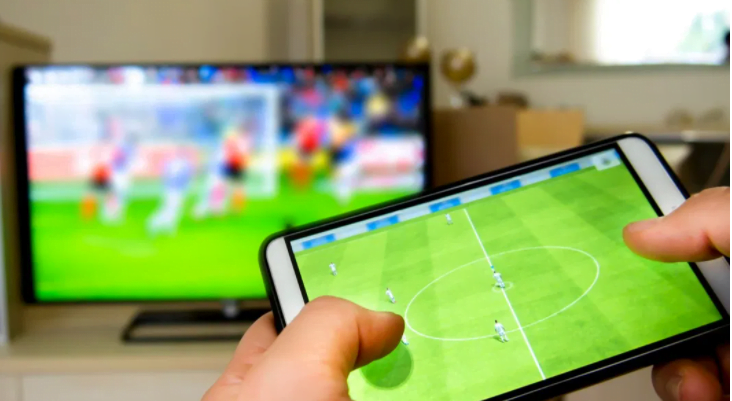 Following are the common and easiest ways to connect your phone to TV.
How to connect Phone to TV?
 1. Direct Screen Mirroring:
After the launch of Android 5, almost all mobile phones were supporting Screen Mirroring. One needs to go in settings and scroll down to the CAST button, and with a single click, you will be on your TV screen. Direct screen mirroring is the easiest & quick way to connect your phone to your smart TV wirelessly.
Steps to use the direct mirroring feature:
• Open Settings
• Tap On Wi-Fi & wireless Search for your Smart TV name.
• Tap to on Your TV name to connect
2. Google Chrome Cast:
Google Chrome cast is a tool that helps you use your phone as a controller for sending all the content to your Smart TV. It allows you to connect your Smart device to your TV wirelessly and manage the apps on your phone while streaming them on your TV's larger screen. So if you are wondering how to stream from phone to TV, then follow the steps below. It's a free service; you do not have to pay any subscription fee for this. It will allow you to connect with the TV in the meantime. You will be able to see the same interface as your mobile device on your TV screen.
You can stream games, movies & other digital content from your phone to the TV by connecting with the Google Chrome cast device. It supports a few big sources of streaming. For movies and Web shows, it supports Netflix, amazon prime video, YouTube & Disney Hotstar. If you are a music fan, it also supports Spotify, Gaana, Wynk music & Jio Saavan music. It also has few games in the bucket, which gives you a more realistic experience while playing the video games on your Cell Phone.
Steps to connect the Chrome cast with your phone
• Plug the Chrome cast on your smart TV.
• You can consider getting Google home on the Mobile phone that you are using.
• Log in with your Google Account.
• Open the app and on the top left corner on the home page.
• Tap on + sign and then Tap on setup device > New device.
3. Apps that connect the phone to TV:
You may be wondering all mobile devices do not support a direct screen mirroring feature to connect your phone to TV. Yes, It's true not all Smart Phones support this feature but don't worry, we have got some other stuff for you. There are a few apps that allow you to connect your phone to the TV. You need to download the app and check the compatibility of your mobile device with the app. If your mobile device supports it, you can use it to connect your phone to the TV. How about listing down the apps that connect the phone to the TV?
Following are some widely used apps that allow you to connect your phone to TV. If you are wondering how to connect phone to TV without Wi-Fi, then you can use the below apps
• Last View
• Air server Connect
• Team Viewer
• Microsoft Remote Desktop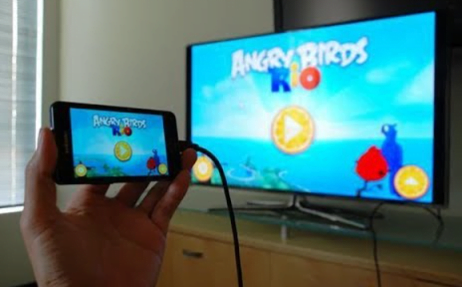 4. Apple Airplay:
If you are an Apple user, we have an easier way to connect with your Smart TV. If you are wondering how to establish a connection from cell phone to TV adapter, this is a feasible solution. You can directly jump into a big screen by using Apple's Airplay trait. AirPlay is an inbuilt feature in iPhones that allows you to cast digital media content from your phone to your TV. You have to connect both the devices to a single Wi-Fi connection, and the very next moment; you will be experiencing the movies, music, games, and any other content on a bigger screen. 
5. HDMI/USB Port:
We all know that Smart TVs have an inbuilt HDMI port. Then why not leverage them to connect phone to TV? You need a simple adapter. And once you connect it to your cell phone's charging port and another end to your smart TV with an HDMI cable, the very next moment, your phone will be on a larger screen. Your TV will work as the one-man army for all the stuff from Gaming, Music, photos to Streaming movies on OTT platforms. The HDMI adapter will work as an output bridge between your phone and TV. There are multiple numbers of HDMI adapters available on online shopping platforms for all USB ports on mobile. Be it USB-C or Micro USB port of your phone, with this simple gadget; you can connect your phone to Your TV.
Final Words:
So in the above article, we have learned how to connect our Mobile phone to Smart TV in multiple ways. We have to know about some apps, Devices, Adapters, and some hidden phone features that allow it to connect with our smart TV. Chrome cast & Google home are the two great ways for Android users to jump on the bigger screen of the smart TV. However, Apple's Airplay feature will be the best choice for iPhone users. If you don't want to get yourself into the App Store & Settings, then you have the simple adapters and HDMI cable option to connect your phone to the Smart TV.