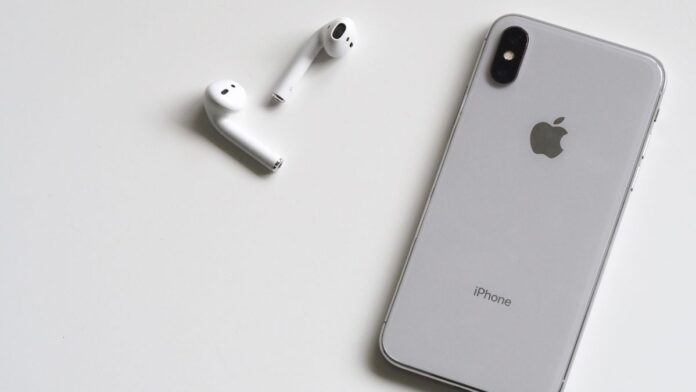 Previously I have written about the best wallet cases for iPhones. In this blog also I have also shared some of more best wallet cases for iPhone 8 Plus. In a wallet case, you can keep your cards and cash without any hassle. Furthermore, it provides all-around protection against damage and shock. I've selected the best iPhone 8 Plus wallet cases based on all of the necessary features. Here are a few key features, such as design and special features, that make these folio wallet cases worth considering.
Best Wallet Cases for iPhone 8 Plus
Let's take a look at the best wallet cases for iPhone 8 Plus!
1. Bellroy Leather Wallet Case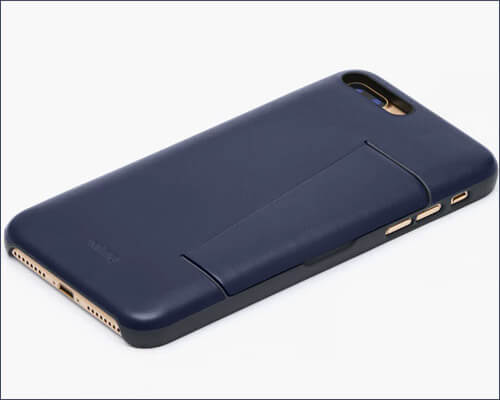 Life throws many challenges at us, and in order to meet them, we must stay fit and active. A bulky wallet stuffed with currency notes, plastic money, and IDs may impede your pursuit of excellence at work and at home. Bellroy has designed this wallet case to store your money wisely in order to avoid this.
This iPhone 8 Plus wallet case has enough room for three cards. Bellroy has carved a slot in the back of this case so that you can quickly take your cards out when it's time to pay money. Aside from card storage, this case has a dedicated slot for your phone's SIM card.
Features:
SECURE CONNECTION
SNAPPY ACCESS
CONSIDERED CONSTRUCTION
Magnetic, Card Slot
Card Holder
2. B Belk Slim Luxury Leather Case iPhone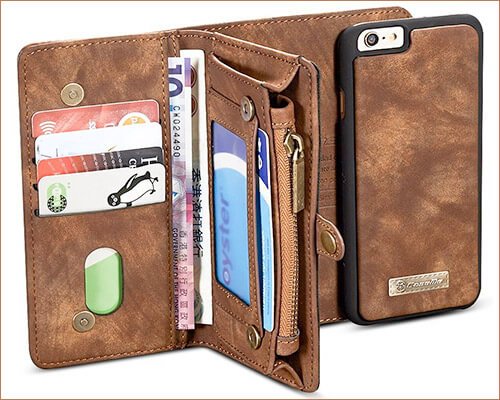 The wallet case for iPhone from B Belk can completely replace your wallet when it comes to securing your iPhone 8 Plus. The wallet case has multiple pockets where you can keep your cards and cash. Furthermore, premium vegan leather is long-lasting and elegant to hold.
The main feature is the detachable iPhone case. It can be used as a wallet, as a case, or both. This case has impressive vertical and horizontal kickstand capability. Finally, there are several color options available.
Features:
Kickstand, Magnetic, Card Slot
Form Factor: Flip
Material: Leather, Polycarbonate
3. Smartish Slim Protective iPhone Wallet Cover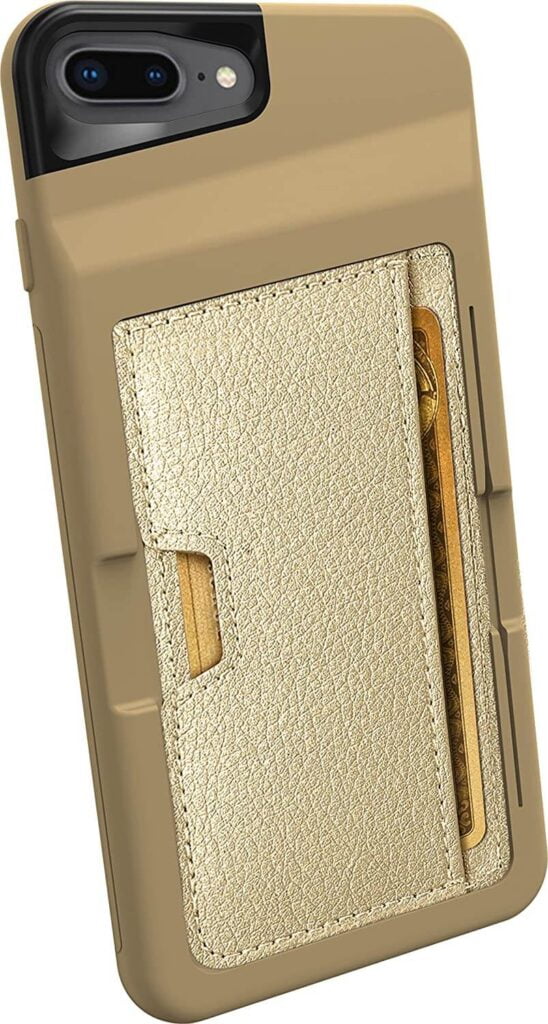 This wallet case is specially designed for users who like the bulk-less design. The wallet case secures up to 3 cards and cash. Compact design with a strong build-up that offers protective air-pocket corners to protect your iPhone from any damage.
Smartish wallet case has high-grip textured sides and allows you to secure your device. It has credit card kickstand so that you can enjoy your movie and songs. This case is available in different colors: Gray Area, Goldilocks, Rosé All Day, and Secret Menu (where you can choose your custom design).
Features:
Form Factor: Flip
Material: Saffiano Textured Wallet
Credit Card Kickstand
Strapless Card Storage
Air-Pocket Corners
Camera & Screen Protection
Light & Durable
4. Spigen Slim Armor Wallet Case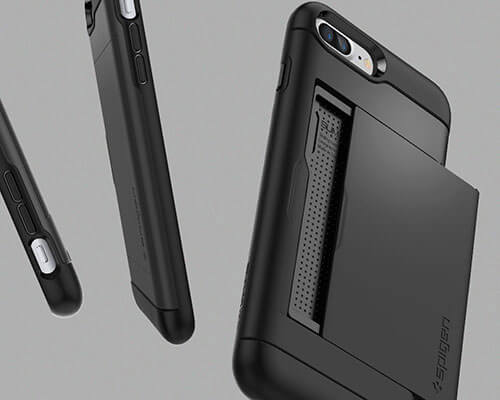 Spigen Slim Armor is an excellent suit for your smartphone when it comes to elegance. This minimalist wallet case is made of high-quality PC and soft PC material and is strong enough to be a long-lasting companion for the iPhone 8 Plus. It provides the desired impact protection due to the solid casing.
The wallet case built-in card storage where you can store up to two cards and cash with secure closure. It has dual-layered with shock-absorbent TPU and rigid PC for durability. Sliding cover provides quick and easy access without open security issues for your iPhone.
Features:
shock-absorbent TPU
Sliding cover
Slim Armor CS
Dual-Layered
Camera Protection
Also Read:
5. TUCCH Flip Folio Wallet Cases for iPhone 8 Plus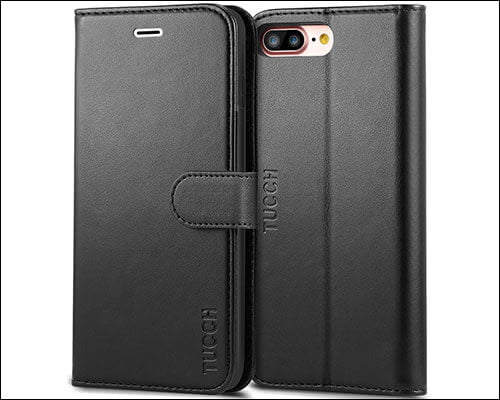 The TUCCH wallet case has a vintage design and is made of soft PU leather. Because it is so smooth, the cover provides a secure grip. The magnetic clasp secures the case perfectly.
This wallet case has a multifunction and includes 3 card slots and 1 money pocket, you can stand the phone up to watch something hands-free, and magnetic flap. Additionally, you can pick this case in different colors: Black, Black & Grey, Dark Blue, Dark Blue & Brown, Dark Red, Hot Pink, Lake Blue, and many more colors.
Features:
Form Factor: Flip
Material: Faux Leather, Thermoplastic Polyurethane
Precise Cut-Out
Undetachable TPU
Wallet Design
Superior Drop Protection
6. Pasonomi Vintage iPhone 8 Plus Flip Wallet Case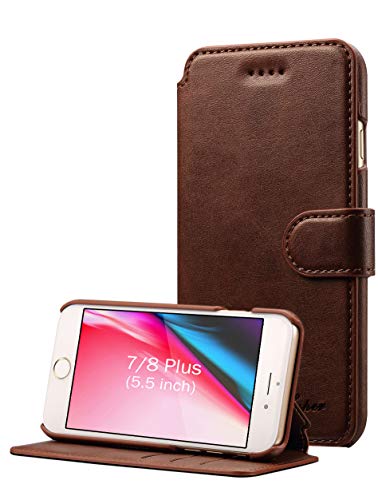 Pasonomi has a charming handcrafted design. It has an appealing appearance due to its impressive craftsmanship and beautiful stitching. High-quality leather increases its longevity while also providing necessary shock resistance.
This sturdy book-style case wraps around the entire body of your iPhone 7/8 Plus device, providing 360-degree protection and security for your iPhone, cash, and cards. You can carry your ID, credit and debit cards, and cash without having to carry your wallet.
Features:
Safe & Secure
Multi-Function Stand
360 Protection
Three Card Slots and Money Pocket
Lightweight, Classic Design
7. Belemay Genuine Leather Wallet Case for iPhone 8 Plus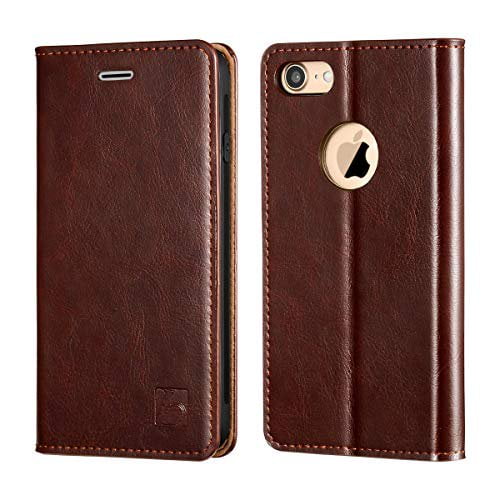 This "Belemay" offering exudes both class and elegance. The genuine leather structure combined with the handcrafted design makes it an attractive match for your executive profile.
Inner pockets are strategically placed to accommodate credit cards, ID cards, business cards, and money. It is the only thing you should bring with you when you go outside, especially if you are traveling. The compact size allows you to fit it in your pocket or bag while protecting your iPhone 8 Plus and eliminating the need for a separate wallet.
This foldable wallet case can be used as an adjustable kickstand, which gives your iPhone 8 Plus a comfortable viewing angle while not adding thickness to your flip case.
Features:
Compatible Model
Premium Genuine Leather
Full Protection
Multi-Functional
Kickstand
8. PASONOMI Holster Carrying Wallet Case for iPhone 8 Plus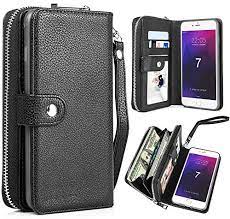 The functional design makes Pasonomi worth considering. It allows you to carry multiple cards and a large amount of cash without any discomfort. You can securely close the case using the zipper closure.
This case is perfect design for Apple iPhone 8 Plus / iPhone 7 Plus. This gives you high-quality PU Leather, Magnets, and PC, non-toxic and environmentally friendly. 360 protection provides excellent protection and prevents scratches, finger print, dirt, and daily wear and tear from accumulating on your iPhone.
Features:
360 Protection
Form Factor: Flip
Compatible Phone Models: iPhone 8 Plus / iPhone 7 Plus
Zipper Wallet
High-Quality PU Leather
9. ZVEdeng Case with Wallet Card Holder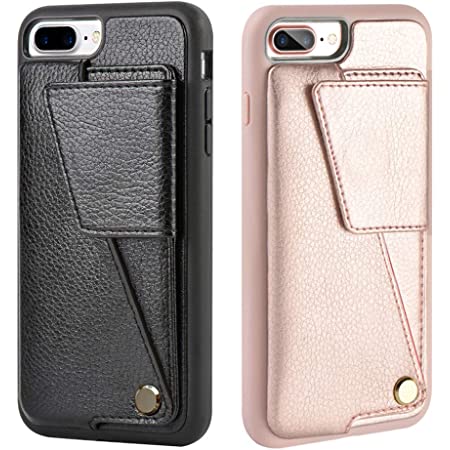 ZVEdeng wallet case is compatible with iPhone 7 Plus, iPhone 8 Plus. This case has a multifunction, you can keep 3 Debit/Credit cards along with 1 money pocket. It also provides you 180° rotation card slot.
This case is made of PU Leather + TPU base shell which protects the device against scratches. This is 100% handmade craftsmanship and its amazing wallet design makes it, even more, fashionable, durable, and shockproof.
Features:
Compatible Phone Models: iPhone 7 Plus, iPhone 8 Plus, Apple iPhone 7 Plus/8 Plus 5.5″
Material: Premium Leather, TPU, Polyurethane
Full-Frame Protection
Secure Magnetic Closure
Rotational Card Holder
Shockproof
10. Vofolen Case for iPhone 8 Plus Case Wallet Card Holder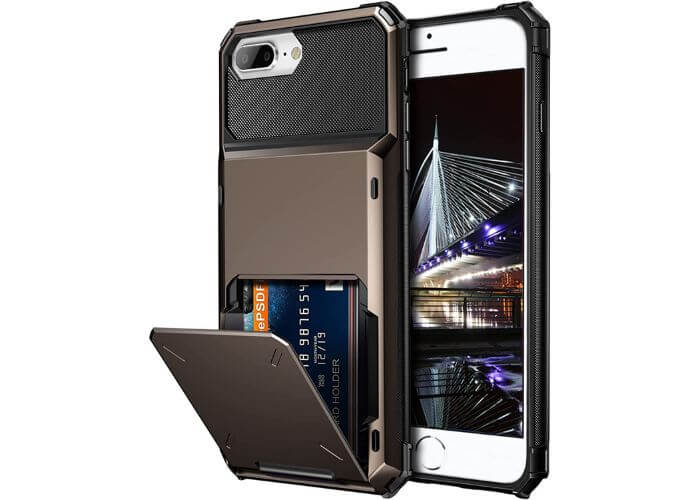 Case for the iPhone 8 Plus by Vofolen The wallet card holder features an ID slot, a semi-auto spring door to protect your cards securely, and a scratch-resistant dual layer protective bumper and hard-shell cover. It has a heavy robust armor design that is incredibly stylish, extremely protective, and practical for everyday usage.
Features:
Compatible Phone Models: iPhone 6 Plus, iPhone 6s Plus, iPhone 7 Plus, iPhone 8 Plus
Hidden Slot
Carry 4 Cards
Semi-Automatic Spring-Loaded Door
Camera Protection
Anti-Slip Design
Dual layer protection: anti-scratch PC shell + shock absorbing TPU cover.
11. TORU CX PRO Wallet Case for iPhone 8 Plus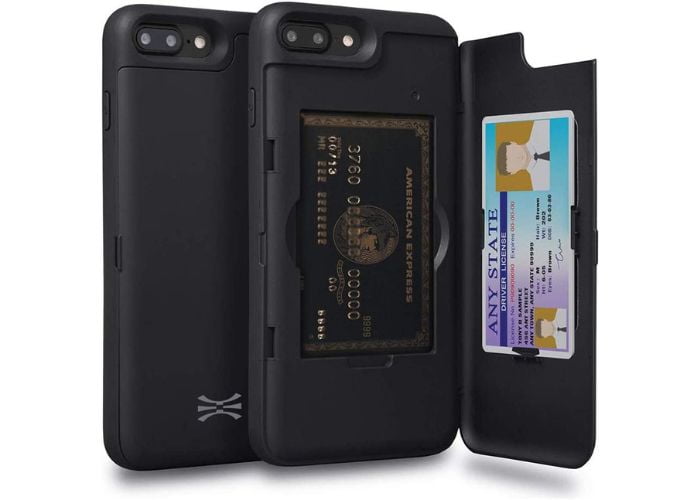 No other smartphone will fit inside the iPhone 8 Plus wallet case, which was specifically made to accommodate the iPhone 8 Plus and iPhone 7 Plus. While offering solid button protection, this iPhone 8 Plus case also permits a natural tactile response when a button is pressed. Our phone cases for the iPhone 8 Plus include precise cutouts that make it simple for you to access the camera, Lightning port and ring/silent switch without any hassle. Visit purchase cases for other models, and go to the TORU store!
The utility and style of this card holder iPhone 8 Plus case are the ideal matches. Your ID, credit cards, metro cards, cash, or tiny notes are all great items to keep inside our iPhone 8 Plus case. With this iPhone wallet case, you can fit up to three cards in total: two in a secret compartment and one in a slot inside the flap cover. The back flap cover of the iPhone 8 Plus wallet case doubles as an adjustable kickstand for reading or watching films.
Features:
Compatible Phone Models: iPhone 8 Plus, iPhone 7 Plus
SUPERIOR PROTECTION
Camera Protection
LIP Guard
Compatible with Wireless Charging
12. Aokebr Fluorescent Bling Wallet Case for iPhone 8 Plus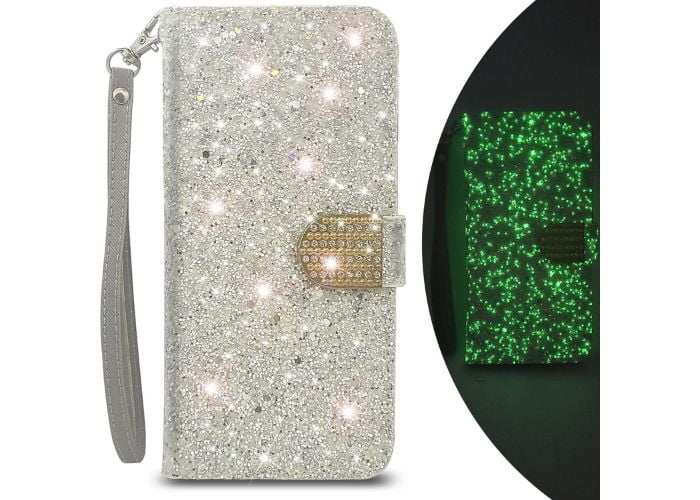 Stylish new protective case with full Noctiluncen design for iPhone 8 Plus and iPhone 7 Plus Luminous sequins design with sparkle. In the sun, shimmering. It can glow in the dark after absorbing the light energy. (You'll need to shine the light on your phone case for a longer period of time if you want it to glow powerfully.)
Features:
Compatible Phone Models: iPhone 8 Plus, iPhone 7 Plus
Material: Thermoplastic Polyurethane
13. Wallet for Apple iPhone 8 Plus, GOOSPERY [Sliding Card Holder]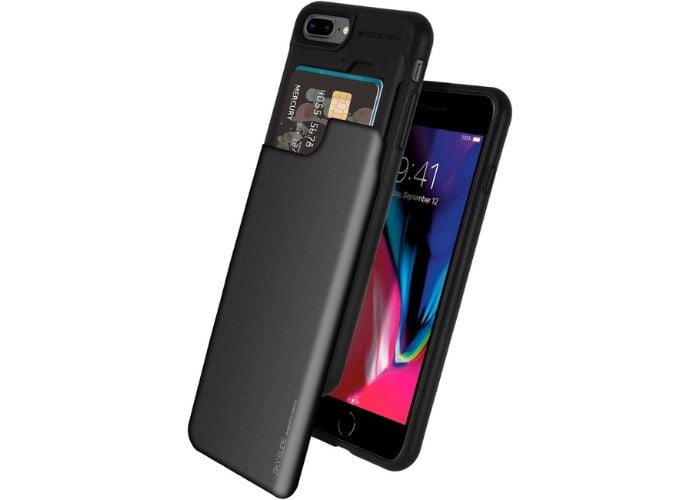 GOOSPERY wallet case holds up to two cards and has a tight clasp. This wallet case is a hybrid protective case with a hard PC back and TPU cover. It includes responsive buttons that are simple to press and give improved security.
Features:
Stores up to two cards with secure closure
The protective hybrid case made with TPU cover + hard PC back
Responsive buttons provide easy-to-press and a better protection
Back slider (PC) makes cards easy to access (ID/credit card)
Conclusion
So, which one is your favorite iPhone 8 Plus wallet case? Do let us know in the comment section below, which iPhone wallet case have you chosen for your device. Which one attracts you and which quality you liked?
Also Read:
Disclosure: This post contains affiliate links. If you use these links to buy something we may earn a commission that at no additional cost to you. Our reviews are not affected by participation in such programs.