Building a new business is a challenging endeavor. If you want to succeed in the long run, you need to build a brand, create a web and social media presence, cultivate a following, and generate leads. You must also manage efficient marketing efforts, keep engagement levels high, and convert leads into sales. Also, you must figure out how to communicate with your intended readers.
With the correct business software, it's much simpler to streamline these processes, leading to a smarter, more efficient business. The downside is that high-quality business software is sometimes somewhat expensive. But with the help of AppSumo, you may enjoy lifetime discounts on the equipment used by your business without going overboard with your spending.
No time to go through the entire article? Go directly to AppSumo!
What is AppSumo?
AppSumo is a daily deal website that specializes in technologically delivered products and services.
AppSumo can be used in two distinct ways. AppSumo is a platform where businesses that offer services or digital goods to customers can team up to offer deep discounts. More people may be enticed to check out their deals and even become regulars as a result.
Second, the site features a variety of deals that business owners can peruse. There are resources available to them at low costs, if not entirely free of charge. Products range from video editing services to project management applications to social media resources.
AppSumo Review: Is It Worth Buying on AppSumo?
Customers have doubts about the reliability of the AppSumo marketplace because of the substantial discounts offered on many items. No one would be blamed for wondering if this website is genuine.
Here's what you can anticipate if you opt to purchase a deal from AppSumo:
It's important to note that many "$59 for life" apps are actually limited-feature or beta versions of full-fledged software. You may need to "stack" a few of the " AppSumo deals" to get the most out of your new software. Buying multiples of an offer is called "stacking" on AppSumo. This usually grants you access to a hidden or enhanced version.
Second, the software is likely to be updated often, usually soon after it leaves beta.
It's possible that the lessons are inadequate, poorly written, or nonexistent. If you aren't tech adept, you should think about this.
The absence of a product roadmap (a list of anticipated new features) in conjunction with the presence of a flawed tool should serve as a warning indicator, if not an indication that the company in question is about to close its doors.
You should think about the learning curve of any new tools you're thinking about buying. Some of the equipment you purchase will be intuitive to use (if you are computer literate.) Or it'll be very similar to what you're using now.
Please note: Black Friday deals are no more available
How Does AppSumo Work?
AppSumo collaborates with businesses that offer digital goods or services. They need to be willing to offer steep discounts on their goods and services in order to close the deals. AppSumo's robust distribution network facilitates rapid growth in revenue for these companies. Because of the high volume of purchases, the substantial discounts offered by the supplier are reasonable.
AppSumo broadcasts each deal to its massive online audience in an effort to quickly facilitate enough sales to make the service profitable. AppSumo provides a rationale for the purchase, details of the deal, a video demonstration, and feedback from previous buyers for every offer.
From helping you write your copy to beta testing your product and providing feedback, they become genuine partners in your work.
By referring customers to its partners, AppSumo is able to sustain its business.
About three times per week, loyal AppSumo customers (known as "Sumo-lings") are treated to brand-new deals. Some lifetime deals can be found for less than the cost of the entire package from a different vendor for a single year. AppSumo puts forth substantial effort to highlight each discount.
AppSumo does some of the most important work for you by only displaying the best of the applications they receive (only 10%). Many vendors cap the number of deals they offer, meaning once they're gone, that's it for good.
Sumo-lings take advantage of great deals on AppSumo, and partners have their wares advertised and sold on the site.
What is AppSumo Heartbeat?
Heartbeat is a fantastic application that enables you to meet with your clients and loved ones, collect payments, plan events, build chat channels specifically for forums, go live, and establish chat channels specifically for forums. The Emoji reaction GIF collection and other features are available.
In place of popular messaging apps like Discord, Slack, Circle, and Rocket Chat, you can use Heartbeat.
With Heartbeat, you can create a new universe that everyone in the globe can participate in from anywhere. One of the most amazing features is that you may create your own domain and control all of the activities that go on within it. New businesses, schools, and accelerators often need new ways to improve their daily communications, and this tool would be a great place to start.
Features of Heartbeat?
In a nutshell, Heartbeat will help you live a more streamlined and productive life. In a dashboard setting, this tool will be your best bet for managing everyday activities.
Threads and chats
Threads chats provide a convenient way to set up a group messaging system similar to a Facebook group, Discord, or Slack.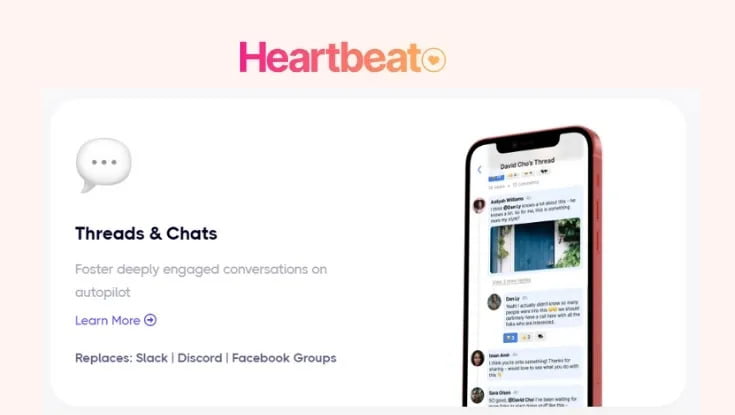 Document and contents
Similar to how Google Drive and Notion can be replaced with this option. You can use this platform to store and distribute files and media such as videos, audio recordings, web links, and schedules for upcoming events.
Events
Assuming that's the case, Heartbeat will serve as a centralized location for managing any and all events you're hosting. One more way to earn money is to host a ticketed event.
Instead of using services like Eventbrite, Meetup, or luma, you can utilize this one.
Match-ups
All of your members' compatibility pairings can be tailored to their own preferences. In place of Donut and Meetsy, this is an alternate.
Voice Rooms
Video chatting, meetings, and messages are all crucial forms of communication. With just one click, you'll be able to join a video or voice conference.
When combined, these functions will be superior to zoom and google meet.
AppSumo Plus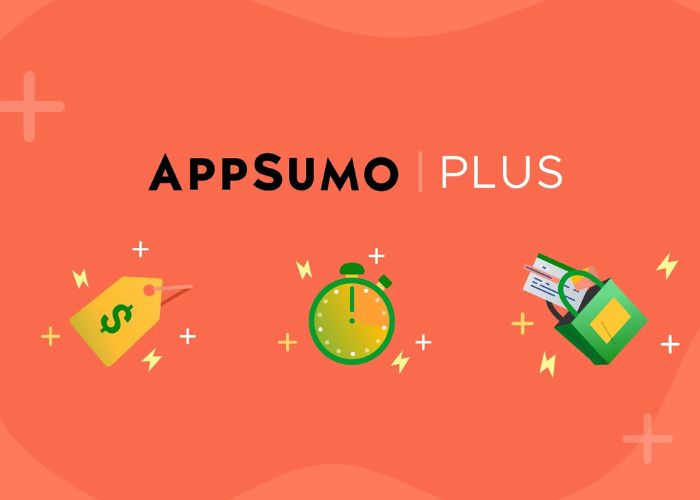 You'll hear about AppSumo Plus once you've started using the service. In exchange for your annual fee of $99, you will receive early and late access to discounts in addition to a discount of 10% off all purchases.
You can get a discount on your purchases with your Plus membership.
This membership is nonrefundable once its perks have been used. No refunds will be given for membership-discounted deal cancellations.
On occasion, AppSumo will provide physical products for sale, such as conference tickets, books, etc. Only cash or cash equivalents can be used to purchase these things (credits and discounts not included). Most AppSumo products and customers will not be affected by this.
Please note: Black Friday deals are no more available
AppSumo Pros and Cons
While researching and writing this AppSumo review, we came across the following benefits and drawbacks:
PROS
Permanent discounts
On AppSumo, we have an average of 3.5 million-selling partners.
Weekly, monthly, and yearly subscription discounts
The inventory covers more than fifty distinct fields.
A policy of generous and equitable returns
The premium version of AppSumo, AppSumo Plus, notifies users through email whenever a good bargain becomes available.
Users of AppSumo are eligible for a 10% discount on KingSumo subscriptions.
The energetic and helpful AppSumo team
An extremely active group of Sumo-Lings
CONS
There have been cases of post-sale changes to the terms and functionality of AppSumo offers.
There is a possibility of deception in the refund policy.
Problems with customer service include a lack of consistency and muddled communication.
Reviews from customers are excessively positive.
If your startup fails, the lifetime deal you thought you had may be null and void.
Also Read:
In what ways does Appsumo justify your software purchase?
Spending a lot of money on software is not a good idea when you can get all you need at a fraction of the cost. When it comes to digital goods, AppSumo is the place to go because of the great deals it offers. There is a 60-day money-back guarantee available as well. There is no need to keep paying for something you don't wish to utilize. With so many pluses, why wouldn't you use AppSumo to purchase software?
To be clearer, suppose you need server-side software for online communities. With Heartbeat, you can start and grow a real-time online community.
The user-friendly dashboard provides a bird's-eye view of all your groups and threads, making it simple to set up distinct communication paths for different types of conversations.
Conversations may be kept lively with the help of the GIF collection, emoji reactions, and typing indicators.
Heartbeat also features a plethora of helpful connections that link your various tools and communities together.
Make use of Stripe's API to start accepting payments for subscriptions, paid memberships, and even tickets to your events.
The best part is that Heartbeat can be integrated with Zapier to make it possible to connect it to thousands of other applications such as Zoom, Slack, and Salesforce.
Why do Companies Offer their Products on AppSumo
It's possible that some readers are baffled by the idea that a software developer would list their product on AppSumo. When you can charge a monthly fee and enjoy a steady stream of income, there's no reason to provide your goods at a steep discount for life.
The answer is quite simple. With AppSumo, you can potentially increase your consumer base and revenue in a short amount of time. Over one million users, a massive email list, four thousand affiliates, and more are all available to businesses thanks to AppSumo. It's basically a marketing machine that a business may use to roll out a new product.
In addition, 'Sumolings,' as AppSumo customers are known, are typically invested in the items they buy, making them a valuable resource for gathering insights to improve the services offered.
Please note: Black Friday deals are no more available
Best AppSumo Alternatives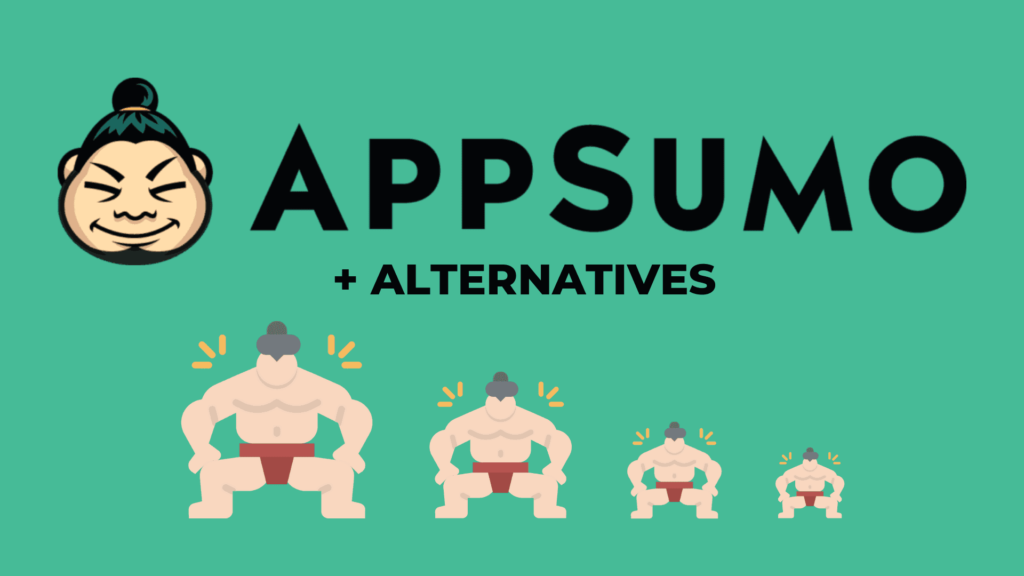 Our analysis of AppSumo shows that the marketplace is still worth visiting for digital goods and services. If you're still considering your options, or just want to see what else is out there, here are some alternatives to AppSumo to check out.
1. Dealmirror
Consider using Dealmirror as an alternative to AppSumo. They provide discounts and deals comparable to those found on AppSumo, with the best of these offering savings of up to 97%.
Search engine optimization (SEO), social media, lead generation, and even hosting are just a few of the many categories provided. Customers may get what they need with minimal time and effort expended.
There is also a helpful Facebook group that is often updated with new offers and discounts that can be found on Dealmirror. Sign up or log in to keep an eye out for a discount that meets your needs.
2. StackSocial
StackSocial is another seasoned veteran of the daily deals industry, having been established not long after AppSumo.
The company deals with both digital and physical things, such as electronics, toys, and other lifestyle accessories. More than five million items have been sold on the site so far.
3. PitchGround
PitchGround goes beyond the traditional SaaS marketplace. Common to other SaaS industries, they provide the usual array of useful functions.
As an added bonus, they offer a wide range of supplementary services for companies. PitchGround is not solely dedicated to promoting the business agreements of others because they have its own offerings.
4. Dealify
In terms of growth hackers, Dealify positions itself as the most widely used lifetime deals platform. It's an internet store where business owners, marketers, and "growth hackers" may discover discounts on various forms of online advertising (find out how to make money with digital marketing).
It promotes all discounts available on Dealify and some from AppSumo. Additionally, it comes with a 30-day money-back guarantee. Plus, you may add a lifetime discount alert extension to Chrome or Firefox. Simply by installing the extension, you'll be sure to take advantage of every possible savings opportunity.
5. SaaSPirate
SaaSPirate is a well-liked choice for those who don't want to use AppSumo. They have software licenses that last a lifetime for a low one-time price, and in certain cases, you can save as much as 90%. CRM, eCommerce, and Analytics are the most sought-after discounts.
The site features listings from over 5,000 businesses and software makers. This is a minuscule amount in comparison to AppSumo, but their target market is also rather small.
Conclusion: AppSumo Review
At this point, you should have a good understanding of the AppSumo marketplace and how to make the most of it. This review of AppSumo will provide you all the information you need to make a wise choice.
It's not prudent to pass up the chance to seize multiple possibilities at once. Instead, you should focus on making the most informed choice possible when faced with multiple equally good options. Cheaper tools may seem appealing at first, but before making a purchase, it's important to do your homework and consider feedback from both satisfied and dissatisfied customers.
Before making any purchases on AppSumo, be sure to think about the above-mentioned important points or advice.
Have fun finding great deals!
Please note: Black Friday deals are no more available
Frequently Asked Questions (FAQ)
1. For what reasons should you upgrade to AppSumo Plus?
For just $99 a year, AppSumo Plus Members receive a wide range of benefits, such as a 10% discount on all purchases, an extended 72-hour timeframe to take advantage of discounts, and more.
Individuals who often purchase software from AppSumo can join AppSumo plus to receive further discounts on their purchases.
2. Why do companies submit their goods to AppSumo?
Inquiring minds naturally want to know why businesses sell products at such low prices. The products on Appsumo are discounted even though the companies selling them may make a profit. Due to a large number of users on this platform, companies have a good chance of making money quickly. AppSumo provides businesses with a large email list, affiliates to market their product, and information about their users.
3. What if I decide the offer isn't for me?
Getting your money back is the most impressive feature of AppSumo. You can get a refund if you buy a bundle and later decide you're not interested in the included software. If for any reason you are not satisfied with your purchase within 60 days of receipt, you can get your money back. The option to pick the optimal product for oneself is therefore made available.
4. Do the discounts on AppSumo justify the price?
Whether or not the AppSumo partnerships are profitable depends on you, your sector, and the arrangement you struck. The timing isn't great for every trade, but you should keep them in mind anyhow. Using WordPress as an illustration, any plugin for which a deal has appeared in AppSumo that you don't now require. However, you may find that plugin useful in the future.
It's possible that not all good offers are worth the cost, while some may end up saving you money.
5. Where can I find the best discounts?
AppSumo collaborates with numerous software companies to provide online access to their offerings. They started out in small numbers, but their ranks are growing swiftly. There are WordPress plugins and themes in addition to software as a service offered on their website.
You have to combine coupons to get the discounts. You can get more out of your purchase if you buy more codes. They provide a larger variety of savings, but only if you believe that every offer is legitimate.
6. Can I have more than one Briefcase under the same user account?
An AppSumo user cannot have several briefcases registered with their account. This means that each account can only use one briefcase at a time.
7. Can you tell me what kinds of equipment are included in the Briefcase package?
A few useful apps like Missinglettr and Kingsumo are available with a briefcase membership. Such resources are provided free of charge for your use.
8. Can I keep the LTDs I bought on Appsumo if I cancel my Briefcase?
It's important to note that the briefcase is a separate discount program from your lifetime agreement. You can expect your offers to last for several years.
9. Is there any way to try out Briefcase for free?
AppSumo does not provide a free trial of Briefcase, or any other software.
10. How does Briefcase compare to Appsumo Plus?
Customers with a briefcase get access to everything that comes with an AppSumo Plus subscription. Furthermore, the client receives 47 bonus credits.
Read More: