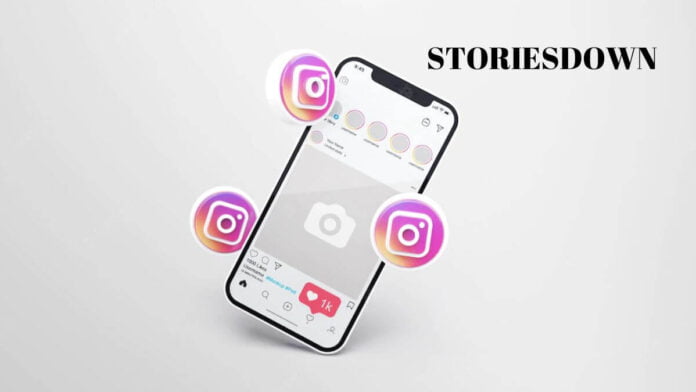 Do you want to view a story on Instagram or download it without a user knowing? Here we are going to write about how to use StoriesDown to download Instagram stories without having an account!
A few years back Instagram launched the feature of stories. This made the app more popular over time since people kept on scrolling or swiping through it addictively. What a user is doing is always reflected in one's stories. In WhatsApp, stories exist in the form of Status. And on Facebook, stories exist as stories. Stories are mere updates of an account ad people usually reflect in it, on whatever they do all day or share any posts or videos they want to. You can say that they are mere updates on life and a person's likes and dislikes.
When Facebook became famous in the earlier age, it increased the toxicity level in the world of social media. Millennials and Gen-Z shifted to Instagram, due to increased level of cyberbullying and nuisance on Facebook. Latter it become the necessity to maintain an Instagram lifestyle. People felt FOMO on Instagram trends and its features.
In research it found that the social media platforms like Instagram cause anxiety, and depression in youth. A website like StoriesDown helps you view and download Instagram stories even without an account.
StoriesDown is best platform for Instagram stalkers. You can now view someone's Instagram stories anonymously with the help of StoriesDown. Here I am going to write about how to use StoriesDown to download Instagram stories. So, let's get started.
What is StoriesDown?

An amazing gadget for the Instagram stalkers, StoriesDown is a website that allows you to view someone's story without them knowing it, and download it in your gallery which is entirely free. StoriesDown launched in the year 2020 and has successfully gained traffic of 7.7million per month.
Now the question arises, who can use StoriesDown? Well, it is for everyone to download and view Instagram story.
You might also have in mind what kinds of stories can you download with StoriesDown? You can download both pictures and videos with the help of StoriesDown.
Highlighted Features on Storiesdown
StoriesDown is entirely free of cost for everyone.
You can use StoriesDown without having any account.
You can view and download an unlimited number of stories, pictures and videos.
The quality of the downloaded stories or pictures remains good.
You can search profile on Instagram within a minute.
Storiesdown is user-friendly and easy to find.
You can operate it on all devices and operating systems, including Android, iOS, and Windows.
How to Download Instagram Stories with StoriesDown?

There is a few simple steps to use StoriesDown to view and download your favourite Instagram stories.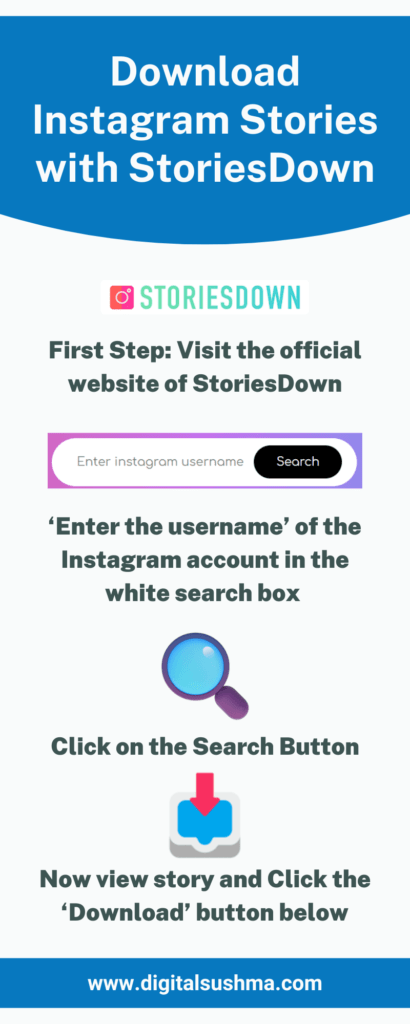 Visit the official website of StoriesDown.
When you are on the website, you will notice a white search box, there you Enter Instagram username.
Then click on Search.
One by one, the stories will appear. You can now view the story and click Download button.
What is the disadvantage of Storiesdown?
The tools which you are using hassle-free may have some disadvantages too. Here I am going to discuss some of the disadvantages of Instagram StoriesDown which every user should be aware.
1. It does not display the content of a private account, which is a major disadvantage of this tool.
2. Instagram can track IP address of the user, so, beware of that you may be caught and blocked if you frequently use this tool.
3. Instagram tries to secure users' privacy, if you are using tool like Storiesdown then it can have serious penalties. The situation can worsen if you are caught using someone's content or idea for your own advantage.
An Overall Review of StoriesDown
The website of StoriesDown works on Instagram API. Even though the application of Instagram does not allow any third-party apps to make access it because of its harmful consequences, the website of StoriesDown is not harmful. People all over the world gained benefits from this anonymous Instagram Story downloader. And has reviewed it well, for the most part.
As StoriesDown does not have any pop-up ads over it. You would not be stopped in the middle of the process of downloading and viewing stories with unnecessary ads you do not want to see. StoriesDown has its income source from Google Ad-sense.
Another cool thing is that the StoriesDown is absolutely 100% free and can be used to see and download stories and posts without paying any fee which makes it cool. Anybody from anywhere in the world who has access to an Internet Connection can use this website to anonymously view stories.
List of the Most Popular Instagram Story Viewers
Find the list of some most popular Instagram Story Viewers:
Qoob Stories
Cocospy
mSpy
Hoverwatch
Glassagram
eyeZy
Instalkr
SmiHub
Ingramer
InstaDP
Stories IG
StoriesDown
Storiesig.app
Anonymous Instagram
Instastories
StoriesDown Alternatives
A website that allows you to stalk without even having an account? No pop-up ads? No need to pay? It is obviously the best you can find in the market. It literally turns the table. However, we still are going to put down some alternatives for you in case the StoriesDown website does not work in your case.
1. InstaDP:
If you want to view all the stories, posts, and even reels too, InstaDP is something that can help. It has an impressive interface and is extremely easy to use. From here, you can not just only view the stories, posts, and reels but also download them at the same time. The interface also has a User-Friendly UI.
2. Qoob stories:
If you want to download a bulk of stories, Qoob stories are what you should go for. It is not a free application but it charges a minimal amount every month. This is for professional stalkers. For first-time users, Qoob stories provide a free trial but if you want to purchase a subscription, then it would cost you $7 per month for personal use and $25 per month for business uses. The coolest feature about Qoob stories is that you can easily download high-quality pictures and videos that come along with metadata from the accounts.
3. Instalkr
This is another free website you can use for downloading Instagram stories. It will keep your identity anonymous. Another big thing here is you can even have access to deleted stories, videos, and photos of that account. But the only drawback is that you will be only able to view all of this social content from a public account and not from a private account.
4. StoriesIG
With StoriesIG, you can view stories, photos, and videos and instantly download them. The good part is you can instantly share them after downloading them to other social media. Right after you get to the website, you will see a simple and easy-to-use interface that has a search box. You UI used here is very basic, thus making it more simple to use and handle stuff.
5. Cocospy
If you want to take it a step further, you can use Cocospy on your account. Not only will you be able to download photos, videos, and all the stories, but you will even be able to track the Instagram DMs. You can view the contact list of the Instagram user you want to spy on while being anonymous. The basic Android package starts from 39.99 per month while the iOS package starts from 99.99 per month.
6. IGStories
With IGStories, you can view Instagram stories of your choice. It is a part of Upleaf which provides Instagram marketing services. IGStories comes free of cost and requires no signup or registration when you want to view stories. You can watch and at the same time download them remaining your unknown identity.
7. SmiHub
This website comes with an amazing interface that appears to be very immaculate and cool. When you want to access a particular account, you will be immediately led to its information like stories posts, and all. You can even analyze likes, comments, and followers with this website. The website is extremely easy to navigate and it does not charge its users for using it. You can use this any time of day when you want to take a peek at someone's account.
8. Ingramer
This app is not free and has certain reasons. You see, good things come at a price. Ingramer works as a typical story viewer of instagram but at the same time, if you subscribe to it, you can use it to market your Instagram content. This tool can be used to schedule the posting of content on your page. The tool also generated hashtags using AI which is a lot helpful when it comes to adding to the engagement and bringing in traffic to a site/ social media page. Ingramer would cost you $37 for two weeks per account for their commercial services. It mainly is in the field as a primary social media enhancer tool but as a secondary work, it also views stories anonymously.
9. EyeZy
When it is installed, you will be able to know every information about a particular Instagram account. You can view chats, find the location of the user, turn on Geofencing alert, and even screen record certain stuff. It is the ultimate app you need to subscribe to at $9.99 for a year. Other than the 12 months plans, there are even plans for 3 months and a month. You will have additional access to stories, posts, videos, and even reels of the certain Instagram account you are spying on.
Summing up
Instagram has experienced an increasing audience of the younger generations. Due to the increase of cyberbullying and harassment on other social sites like Facebook, Twitter and Snapchat, a population of the young generation has shifted to Instagram for their benefit.
Other than the addictive swiping of stories, Instagram, in the recent past launched reels. Thus, it became an alternative to banned apps like Tiktok for short videos. Currently, most Instagram users make accounts there to make reels and let the world know about it. Addictive features and an impressive editing interface have made it popular among teenagers and young adults.
For such uses, you can easily use StoriesDown or the other alternatives we mentioned in the article which will help you remain anonymous while checking someone's story and downloading it later.
Happy swiping! Do not forget to let us know in the comments which website or application worked the best for you.
Frequently Asked Questions
Is StoriesDown legit?
Yes, the best thing about StoriesDown is that you won't have to create a separate account, and whatever you view or download with the app will be 100% anonymous.
Can I view posts using StoriesDown?
Yes, you can even view posts using StoriesDown anytime. Just search the user's username in the search box and you can see the posts and stories of that username.
Is it safe to use Instagram StoriesDown?
Yes. We won't encourage to the use of third-party service providers, but we can say that StoriesDown is safe to use. It doesn't contain any spam promotion or pop-up ads. Their income is solely generated from Google Adsense ads.
What are the alternatives to StoriesDown?
In case you are searching for some alternatives to StoriesDown, you can use InstaDP, Qoob Stories, Instalkr, Storiesig, Instastories online, Dumpor, SmiHub, Greatfon, Picuki and so much more. The internet is thriving with alternatives to StoriesDown, both paid and free.
Is StoriesDown anonymous?
Yes. StoriesDown helps you to view and download Instagram stories anonymously.
How can I view stories without getting seen on Instagram?
There are plenty of apps to remain anonymous while viewing stories on Instagram. One of them is StoriesDown. You can read the section on blog to find out more about the alternative apps.