You are on your phone late at night. You open Facebook and boom! Flashes a strong powerful light from your phone. This literally puts a lot of strain on your eyes and is kind of not good for your eyes. This is because the Facebook dark mode is not turned on. Today we will tell you how to turn on Facebook dark mode. It reduces strain on your eyes and saves your battery.
In the recent past, Facebook made these changes and it's for the better. Someone scrolling the tabloid or phone's screen at night time does not really want a lot of light on their face. A big thanks to Facebook for making it possible. No more dizziness from the very facebook light.
Facebook has many interfaces. Dark and light are the types. When the Facebook dark mode is turned on, the interface of the apps turns to the dark mode. When the light mode is turned on, the interface switches from the other mode, making it a white interface.
Dark mode not only now exists in the phone's system but it exists on all social media platforms more or less. It spreads accrpsst Twitter, Instagram, Tumblr.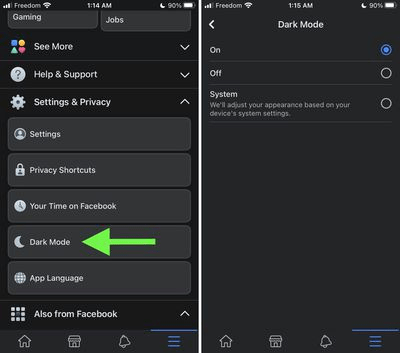 What is a dark mode on Facebook?
If we talk generally, dark mode is basically light texts on a dark background. And light mode is basically dark texts on a light background.
Now you will ask if it's the same as the system's themes/mode. Yes, it is quite the same thing.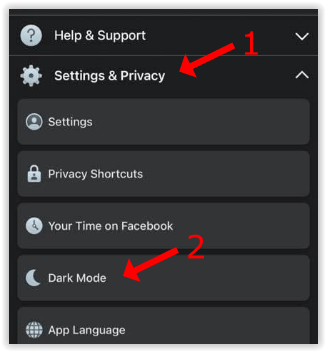 How do you turn on dark mode on Facebook on Android?
Now that Facebook and the system's modes differ, you can easily change the settings of your phone. This can be done from the settings of your Facebook account.
You need to switch on the dark mode in Android and this is how you have to do that:
(This works for every Android version)
Step 1: Launch Facebook on your android phone.
Step 2: Once you have launched the application, you can see the news feed appearing. Look at the top. You can see four options. From them, click on the right one which is also known as the hamburger icon. This means that it is the three horizontal lines option. Click on that.
Step 3: Scroll down to the bottom of the page and you'll see three options. From there, select Settings & Privacy.
Step 4: A few more options will appear. From there, click on Settings.
Step 5: You will be taken to a new settings page. You will notice that when you appear on the page, there are several heads like Account, Preferences, Audience and Visibility, Permissions, Your information, and Community Standards and Legal Policies.
Go to Preferences. From there, you can find the Dark Mode option at the end. Tap on it.
Step 6: A new page will appear where you will see three options- On, Off, and use system settings. Click on the On option. And it will switch on to the dark mode. You can also select use system settings. This means that Facebook will adjust itself according to your phone's settings. If your phone is in light mode, Facebook will switch to light mode. And if it's on the dark mode, Facebook will switch to a dark mode.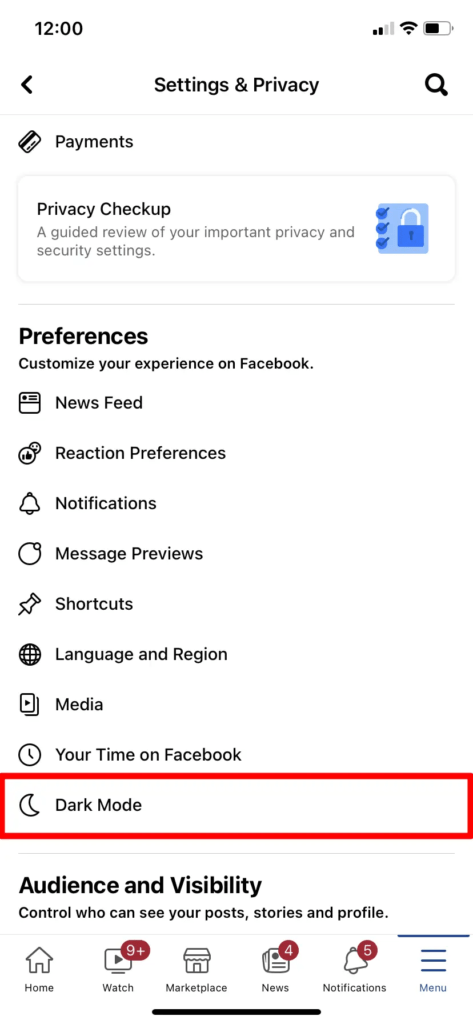 Also Read:
How to turn on Facebook dark mode on iPhone?
For turning on the dark mode on iPhone, you will need to:
Step1: Launch the Facebook app.
Step 2: Look at the bottom of the app, you can see five options. On the right-hand side, you will find the Hamburger option (three horizontal lines). Click on that option.
Step 3: This will lead you to the next page, the Menu page. On the top right corner, before the search option, you will find the clog wheel icon. Tap on it to open the Settings & Privacy menu.
Step 4: Under this page, you will find different heads which has a lot of options underneath them. Go to Preferences and then select the last option called Dark Mode.
Step 5: The dark mode page will show three options to tick on.
On: This enables the dark mode option
Off: This disables the dark mode on Facebook
System: this adjusts the mode of the application according to the system settings.
If the system is in dark mode, it will turn to dark mode and if it's in light mode, it will turn into light mode.
For enabling the dark mode on Facebook, click on the On option. In a moment, Facebook will get into the dark mode.
Conclusion:
Dark mode has arrived on almost all social media including Instagram, Facebook, Tumblr, Pinterest, Twitter, Whatsapp, etc. Using it reduces the strain that is put on your eyes. It also does not lead to a rapid reduction in the battery usage of your phone/ laptop or wherever you are using them. We have seen that Facebook dark mode is basically a dark background behind the light texts and learned how to turn to dark mode easily.
More Article: